By Stefan Stanford – All News Pipeline – Live Free Or Die October 2, 2021
While we've been reporting upon the massive shortages hitting America over the past year+ as the globalists drive to transform America into a full-scale socialist nation hits overdrive, my trip to the grocery store on Thursday brought more confirmation the shortages we're witnessing are not only 'the new normal' but 'things are about to get much worse' if the meat section manager of that store is correct.
Looking over the meat section to see if there were any deals going on in this day and age of rising meat prices, that manager came out from the back just in time for me to pelt him with a couple of questions.
Asking him first "have you been having any difficulties in getting in your meat supplies?", he immediately responded to me with "I ordered 150 pounds of lunch meat this week, only to get 20 of them!" Then warning me "and I've been told it's going to get a lot worse", WTOP News in Washington DC reported September 30th "Prince George's County Public Schools says it will stop handing out free suppers to some students starting next week, citing supply chain issues and national shortages."
With that WTOP story echoing this story out of 9News in Jefferson County, Colorado which reported one of that state's largest school districts is starting to cut back on serving hot meals in the cafeteria, though their excuse was "due to staffing shortages", we'll be taking a look within this story at all the latest signs of 'danger ahead' as a Venezuela-style full-scale collapse is imposed upon America.
The excerpt below from this story over at the Epoch Times titled "Workers Who Maintain Supply Chains Warn of Worldwide 'System Collapse'" tells a story that the mainstream media will never tell, except while they're trying to sugar-coat everything now happening.
While this local story at WLWT5 in Cincinnati reported "Cincinnati favorites such as Graeter's, Skyline (are) experiencing food, product shortages" and "the global supply chain crisis is hitting home in many ways", the Washington Post attempted to blame 'Brexit' for the panic buying and long fuel lines happening now in the UK (with the US to follow), claiming "anyone could have predicted it", (especially if 'collapse' has been the goal all along!) From this Epoch Times story before we continue.:
Several industry groups have warned world leaders of a worldwide supply-chain "system collapse" due to pandemic restrictions, coming as Federal Reserve Chairman Jerome Powell suggested that the current period of higher inflation will last until 2022.
The International Chamber of Shipping, a coalition of truck drivers, seafarers, and airline workers, has warned in a letter to heads of state attending the United Nations General Assembly that governments need to restore freedom of movement to transportation workers amid persistent COVID-19 restrictions and quarantines. (ANP: See also this especially alarming development: "Now There are Whispers in D.C. That Biden is About to Issue Vaccine Passport Mandate for Interstate Travel".)
If nothing is done, they warned of a "global transport system collapse" and suggested that "global supply chains are beginning to buckle as two years' worth of strain on transport workers take their toll," according to the letter. It was signed by the International Air Transport Association (IATA), the International Road Transport Union (IRU), and the International Transport Workers' Federation (ITF), which represent some 65 million transport workers around the world.
"All transport sectors are also seeing a shortage of workers, and expect more to leave as a result of the poor treatment millions have faced during the pandemic, putting the supply chain under greater threat," the letter said. "We also ask that WHO and the ILO raise this at the U.N. General Assembly and call on heads of government to take meaningful and swift action to resolve this crisis now," they wrote.
With it most likely that the 'swift action' government will resort to will be bringing in more National Guard soldiers to do the jobs that that others won't do, like they're now doing in Massachusetts for school bus drivers, that Epoch Times story also quoted quoted FED Chairman Powell about how long all of this might last, at least well into 2022, though we expect much longer.
In remarks on Sept. 29, Powell said that the current spike in inflation is a "consequence of supply constraints meeting very strong demand," saying it's "associated with the reopening of the economy, which is a process that will have a beginning, middle and an end."
"It's very difficult to say how big the effects will be in the meantime or how long they last," Powell said during a forum hosted by the European Central Bank. The current price surge, he said, is due to bottlenecks in the supply chain, although he believes prices will eventually come down on their own. The surge will continue into 2022 before dropping, Powell said.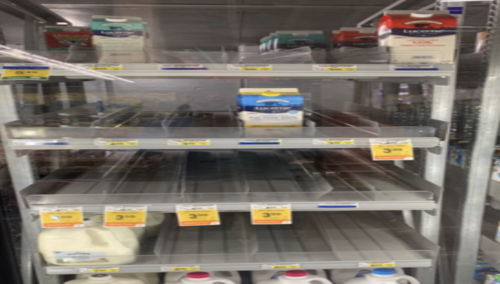 So while shortages of many different goods are survivable, what none of us can go without for too long a period of time and still survive are food and water.
With the BBC reporting just days ago in this story titled "The everyday foods that could become luxuries" that "everyday foods such as coffee, meat and spices could become luxury items due to global climate impacts and changing tastes", we see once again that almost everything that the globalists are pushing is tied to a future of mass 'global warming', with the left blaming 'cow flatulence' as one of the major reasons we need to do away with meats.

Think the skyrocketing meat prices we've seen in stores recently were JUST because of COVID? Not a chance. This has all been planned by the left for years! With the Wall Street Journal reporting dollar stores are raising their prices while bacon prices are hitting record highs, with no signs they'll be going down any time soon, Americans better be prepared for this going on a very long time; 'forever' if the globalists get their way.
And with ANP recently emailed the photograph seen above by Remie with the following note, "Here in the South Bay Area in California we are seeing shortages. Today, the Instacart shopper told us "Worst I've seen for milk supply." Speaking generally he said, "This is beyond crazy. Really never seen shelves this empty on a Tuesday", we continue to serve our families and loved ones best by preparing for absolutely anything and everything in the days ahead. Some food products still available now and as close by as a delivery include.:
Meats:
Fully Cooked Bacon, Ready to Eat, 80 Slices Per Pack / Case, 10 Year Shelf Life, Superior to Canned, Real Thick Cut, 2+ Pounds, No Refrigeration Needed, Grocery, Long Term Storage, Camp, Hunt, Lunch
Chicago Steak Meal Set Includes Savory Ribeye, Top Sirloin Steak, Angus Steak Burgers, & Lemon Herb Chicken Breasts
Maine Lobster Now – 2 Pounds Fresh Maine Lobster Meat
Aged Angus Filet Mignon Top Sirloin NY Strip Ribeye and Premium Ground Beef by Nebraska Star Beef – All Natural Hand Cut and Trimmed – Steak Gift Packages Delivered to Your Door
Bison Burgers & Steaks Combo Pack: 100% All-Natural, Grass-Fed and Grain Finished North American Bison Meat with no Growth Hormones or Antibiotics – USDA Tested – 14 Piece of Tender, Flavorful Meat
H.F.'s Outstanding All Natural Skinless Boneless Chicken Breast, 40 Ounce
Porter & York, Prime Beef Bone In Ribeye Steaks 20oz 4-pack
Porter & York Brand Meats – Prime Beef Boneless Ribeye Steak 16oz 4-pack
T-Bone Steaks, 6 count 16 oz each from Kansas City Steaks
Angus Wagyu Ground Beef Patties By Nebraska Star Beef – The Ultra Premium Package for Family Grilling Events
Freeze Dried Foods:
Wise Company Long Term Emergency Freeze-Dried Food Supply, Breakfast and Entree Variety
MRE Meals – 124-Serving Freeze Dried Emergency Food Supply
Wise Company ReadyWise, Emergency Food Supply, Emergency Freeze Dried Fruit Bucket, 120 Servings
Wise Company Emergency Food Supply, Freeze Dried Meat Variety, 15-Year Shelf Life, 60 Servings
Wise Company Emergency Food Supply, Variety Pack, 25-Year Shelf Life, 104 Servings
Wise Company ReadyWise, Emergency Food Supply, Freeze Dried Vegetables, 120 Servings
Mountain House Classic Bucket | Freeze Dried Backpacking & Camping Food | 24 Servings
Mountain House Diced Beef #10 Can Freeze Dried Food – 6 Cans Per Case
Mountain House Cooked Diced Chicken #10 Can
Augason Farms Lunch and Dinner Variety Pail Emergency Food Supply 4-Gallon Pail
Fruit pails or buckets shipping now for 2 to 3 weeks, so might want to pick individual cans/packets HERE.
Other:
Augason Farms Vegetable Stew Blend 2 lbs 0.5 oz No. 10 Can
Augason Farms 5-90158 Scrambled Egg Mix, 2 lbs, 4 oz. No. 10 Can
Augason Farms Dried Whole Egg Product 2 lbs 1 oz No. 10 Can
Hoosier Hill Farm All American Dairy Whole Milk Powder 1 lb
Hoosier Hill Farm Heavy Cream Powder Jar, 1 Pound
Augason Farms Dehydrated Chopped Onions 1 lb 7 oz No. 10 Can
Nutristore Freeze Dried Mozzarella Cheese Shredded Premium Quality
Amazon Search 'Flour'
Canned/Packaged Goods:
Wellsley Farms White Premium Chunk Chicken Breast in Water, 12.5 Ounce, 6 Count
Swanson Chicken á la King Made with White and Dark Meat Chicken, 10.5 Ounce Can (Pack of 12)
Dinty Moore Beef Stew with Fresh Potatoes & Carrots 20 oz (Pack of 12)
Armour Star Classic Homestyle Beef Stew, 20 oz. (Pack of 12)
Keystone Meats All Natural Canned Beef, 28 Ounce
SAMPCO Shredded Beef 3lb.
Kirkland Signature Chicken Breast (Chicken Breast -6 Count)
Keystone Meats All Natural Canned Pork, 28 Ounce
Armour Star Roast Beef With Gravy, 12 oz.
Armour Star Banner Sausage, Easy Open Can, 10.5 oz. (Pack of 12)
Wild Planet Skipjack Wild Tuna, Sea Salt, Keto and Paleo, 3rd Party Mercury Tested, 5 Ounce (Pack of 12)
Armour Star Luncheon Meat, 12 oz. (Pack of 12)
Canned Vegetables Variety Of Options
Canned Fruits Variety Of Options
Rice
Beans
Pasta
So with the Biden admin now insanely pushing 'papers please' for interstate travel another sign of just how bad things could get in the months ahead as winter approaches, Americans revolt against 'vaccine mandate madness' and store employees sharing with us their own first hand knowledge of what is to come, with the words 'it's only going to get worse' being freely tossed around, Americans also should see what's coming if we continue along the same path that we're being herded down; just look at what happened, and is still happening right now, to Venezuela! (Click to Source)