BY ZACHARY STIEBER August 26, 2021 Updated: August 26, 2021
At least two explosions took place near the airport in Kabul, Afghanistan, on Aug. 26, complicating efforts to evacuate Americans, Afghans, and others trying to leave the country before the United States pulls out its troops.
A bomb went off at the Abbey Gate at Hamid Karzai International Airport, U.S. Department of Defense spokesman John Kirby said. At least one other explosion erupted at or near the Baron Hotel, which is a short distance from Abbey Gate.
The bombs resulted in a number of U.S. and civilian casualties, Kirby wrote on Twitter.Play Video
Officials at the emergency hospital in Kabul told Tolo News, an Afghan outlet, that at least 60 people were injured in the explosions.
The Taliban said at least 52 were injured and that at least 13 were dead, including children.
The Russian Foreign Ministry stated the bombs killed at least 13 people. Fifteen others were wounded, the ministry said.
Paul Farthing, a former British Marine who now runs an animal shelter in Afghanistan, told the Press Association that he was outside the airport when the initial explosion went off.
"All of a sudden we heard gunshots and our vehicle was targeted, had our driver not turned around he would have been shot in the head by a man with an AK-47," he said. "We've been in the airport, and back out of the airport; the whole thing's a mess."
German Chancellor Angela Merkel told reporters in Berlin: "We don't know all the details, but the terrorists were targeting people waiting outside the airport gates hoping to leave. They want security and freedom for themselves and therefore this is an absolutely horrendous attack in a very, very tense situation and I think in these minutes of the victims and their families."
Photographs showed injured and bloodied people in Kabul being taken to a nearby hospital on makeshift stretchers.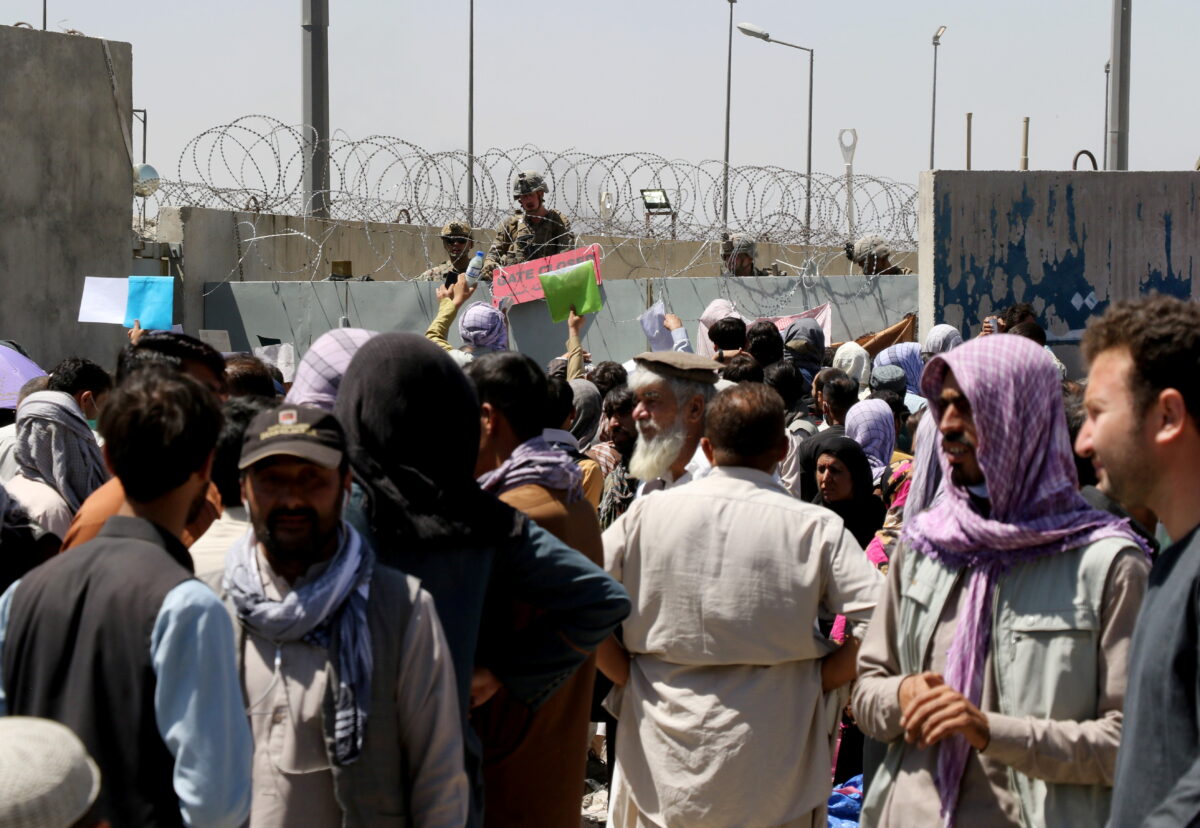 The explosions happened shortly after Britain's Armed Forces Minister James Heappey warned that there was a "very credible" threat that the airport in Kabul would be attacked by the ISIS terrorist group within hours.
Britain, the United States, and Australia had urged citizens not to travel to the airport late Aug. 25.
The U.S. Embassy in Kabul warned of unspecified "security threats."
"I can't get into the specifics of the threat information but it was clearly regarded as credible, as imminent, as compelling," Ross Wilson, the U.S. ambassador to Afghanistan, said on ABC News on Aug. 26 just before the explosion. "Our intention was to urge Americans and, frankly, others, not to come to the airport."
As many as 1,500 Americans remain in Afghanistan, U.S. Secretary of State Antony Blinken said on Aug. 24.
Thousands of people have been rushing to the airport to try to flee the Taliban-held country before U.S. troops withdraw.
Ahead of the Aug. 31 U.S. withdrawal date, and with Taliban militants stopping many from reaching the airport, several European countries had already stopped or prepared to halt evacuations while Canada ended its evacuation efforts.
"The reality on the ground is the perimeter of the airport is closed," Gen. Wayne Eyre, Canada's acting chief of defense staff, told a press conference earlier on Aug. 26. "The Taliban have tightened the noose. It's very, very difficult for anybody to get through at this point." (Click to Source)