BY JACK PHILLIPS August 16, 2021 Updated: August 16, 2021
World leaders expressed shock and dismay after the Taliban took over Afghanistan's capital, Kabul, following swift advances that caught the United States off guard as it was withdrawing from the country.
UK Prime Minister Boris Johnson described the Taliban takeover as "extremely difficult," adding that it is "very important the West collectively should work together to get over to that new government, be it by the Taliban or anybody else." He added that "nobody wants Afghanistan, once again, to be a breeding ground for terror."
Johnson added that it was "fair to say" the White House's move to withdraw "accelerated things, but this has in many ways been a chronicle of an event foretold."
The United Nations chief on Sunday called on the Taliban to "exercise utmost restraint" in Afghanistan just hours after the group entered Kabul and later, the presidential palace.
Secretary-General Antonio Guterres "is particularly concerned about the future of women and girls, whose hard-won rights must be protected," according to a UN statement. Over the weekend, the UN said that its Security Council will meet Monday on the situation in the country.
Italian Foreign Affairs Minister Luigi di Maio told the newspaper Corriere della Sera on Sunday that there wouldn't be a military incursion in Afghanistan.
"Surely the West has made mistakes and it is correct to admit it," di Maio told the newspaper, according to translation.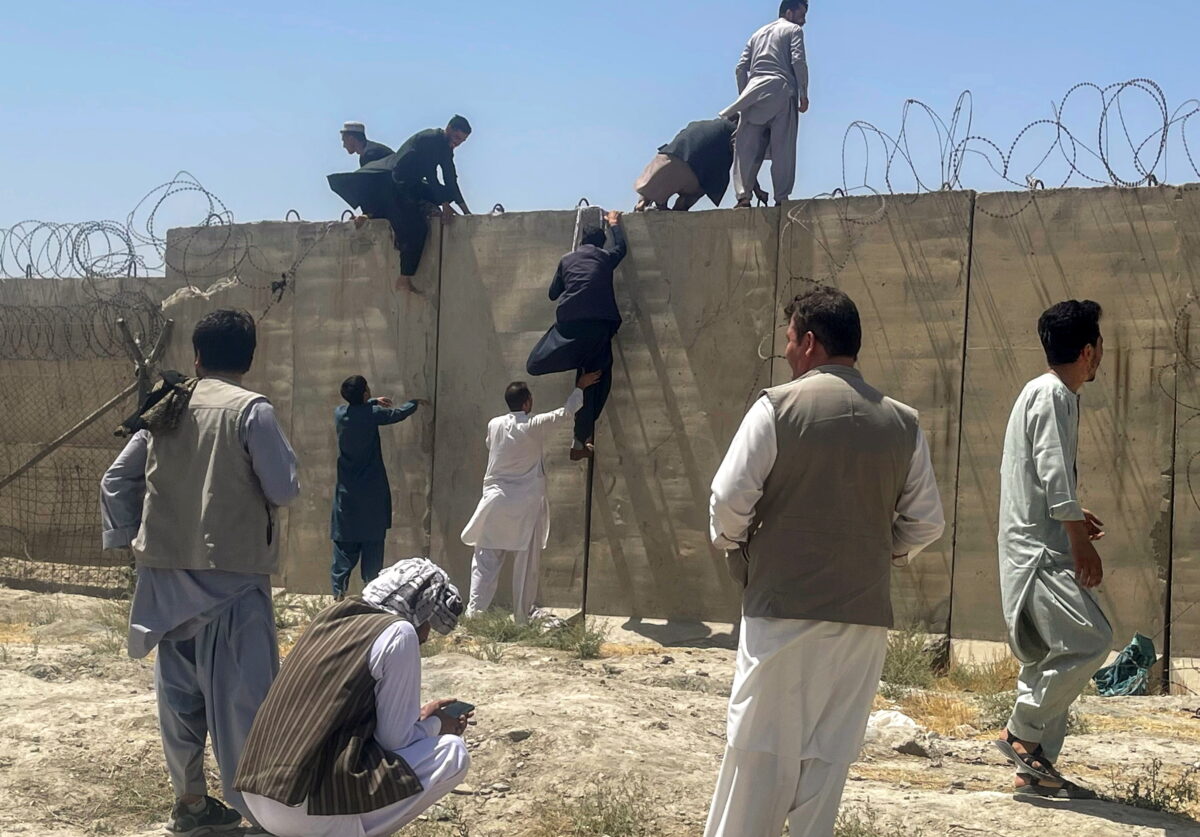 In public comments on Sunday, Canadian Prime Minister Justin Trudeau similarly expressed disappointment.
"We've been constantly monitoring the rapidly evolving situation," Trudeau said. "We are heartbroken at the situation the Afghan people find themselves in today."
Meanwhile, Australian Prime Minister Scott Morrison added that the government would work to evacuate people still in Afghanistan, namely those who aided the Australian effort in the country.
"Our focus now is to ensure that we continue to support those who have aided us and ensuring that 400 people have already been brought to Australia as we have been working on this quite rapidly in recent months as the situation continues to deteriorate," Morrison said. "We will continue to redouble our effort in that regard with our partners."
Speaking Monday, German Chancellor Angela Merkel told reporters that as many as 10,000 people have to be urgently evacuated from Afghanistan by the German government. They include Afghan translators, human rights activists, and laws.
"We are witnessing difficult times," Merkel said. "Now we must focus on the rescue mission."
President Joe Biden, who announced last month that the United States would withdraw after 20 years, has not issued any televised addresses in recent days. Last week, the White House released a statement that partially blamed former President Donald Trump for attempting to negotiate with the Taliban to exit Afghanistan.
Within the United States, Republican lawmakers and even some Democrats sharply criticized the White House for how it handled the situation, comparing the withdrawal to the 1975 fall of Saigon that capped the end of the Vietnam War.
The White House, meanwhile, has not said whether Biden will issue another statement on the deteriorating situation.
We're so happy to be able to offer you the highest level of Excellence
in a Comprehensive Telehealth Membership Plan
that just about everyone can absolutely afford.
The only thing you can't afford, is to be without it!
PLEASE CLICK HERE FOR MORE INFORMATION!