BY JACK PHILLIPS May 12, 2021 Updated: May 12, 2021
Israel carried out hundreds of airstrikes in Gaza on Wednesday after Palestinian militants fired rockets into Tel Aviv and Beersheba, according to the Israeli Defense Forces (IDF), amid videos showing a 13-story residential tower collapsing in Gaza—while a United Nations envoy warned of a large-scale conflict erupting.
"Terrorists in Gaza are firing a barrage of rockets into southern Israel," the IDF wrote on Twitter on Wednesday morning.
In subsequent tweets, the IDF confirmed that it targeted a multitude of Hamas targets, including "Hamas squads operating anti-tank missiles" and posted a video when Israeli forces struck "a terrorist squad preparing to launch an explosive UAV from Gaza into Israel."
Whole Egg Powder (72 servings)
It continued, "We just struck a Hamas rocket launcher preparing to fire 10 rockets at Israeli families & homes in the cities of Ashdod and Ashkelon. The IDF continues to thwart terrorist squads and rocket fire from Gaza."
Gaza officials told the Reuters news agency that at least 49 people were killed in Gaza after the conflict began to flare up on Monday. Six Israelis were killed, officials added.
Tor Wennesland, United Nations Middle East envoy, meanwhile, warned on Twitter that the two sides should cease fighting immediately, warning that a "full scale war" could erupt.
Israeli Defence Minister Benny Gantz said the country's forces attacked "many hundreds of targets" and killed senior Hamas operatives in Gaza.
"The Israeli military will continue to attack and will bring about complete and long-term quiet," Gantz told reporters Wednesday, reported Reuters. "Only when we achieve this goal, can we talk about calming things down. At the moment, there is no end-date." (Click Here)
On Tuesday, a multi-story building in Gaza collapsed after Israel warned the residents to evacuate. Another building was damaged in airstrikes, Reuters reported.
Video footage posted online showed the building—a 13-story residential tower—crumbling under its own weight amid explosions. There were no reports of casualties.
IDF officials on Wednesday said they expect more rocket fire from Hamas—long designated as a terrorist group by the U.S. Department of State—after six Hamas commanders were killed, according to the Times of Israel.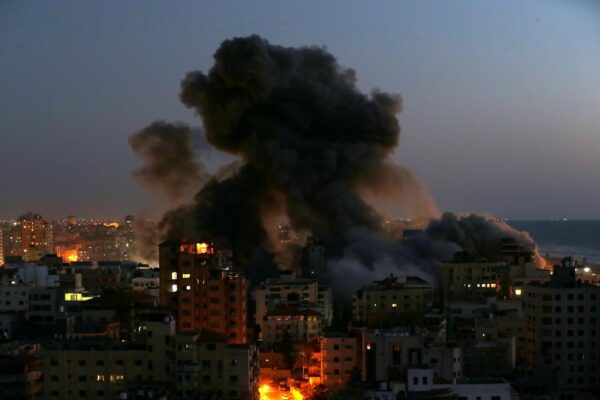 "We eliminated senior Hamas commanders and this is just the beginning," Israeli Prime Minister Benjamin Netanyahu was quoted as saying by the paper. "We will inflict blows on them that they couldn't even dream of."
Hamas, meanwhile, told media outlets that it fired 210 rockets into Beersheba and Tel Aviv overnight in response to IDF airstrikes, including the strikes on the Gaza tower building that collapsed. (Click to Source)
We're so happy to be able to offer you the highest level of Excellence
in a Comprehensive Telehealth Membership Plan
that just about everyone can absolutely afford.
The only thing you can't afford, is to be without it!
PLEASE CLICK HERE FOR MORE INFORMATION!