Israel is in absolute chaos at this hour (12:14 PM EDT) as Palestinians retaliate for Israeli attacks against worshipers in the Al-Aqsa Mosque.
Two days ago, Israel stormed Muslims third holiest place, the Al-Aqsa Mosque. Twitter is full of videos of Israeli soldiers attacking the site.
They are also evicting Arab people living in a neighborhood in Jerusalem and giving the houses to Jewish people.

Palestinian groups said 18.00 Jerusalem time, rockets would be launched if Israel doesn't pull back its troops from and release all Palestinians imprisoned last 3 days.

Israel refused to meet the ultimatum and ONE MINUTE after the deadline, the rockets starting launching.
Dozens of rockets have already been launched and the barrages against Israel continue at this hour.
In at least one circumstance, a Kornet anti-tank weapon (file photo above) was fired at an Israeli Military Vehicle, destroying it.
Air raid/Rocket Attack sirens are sounding in cities all over Israel and BOMB SHELTERS have been opened for people to take shelter.
Sources inside Israel tell the Hal Turner Radio Show "This is unprecedented."
Sounds of numerous explosions are being heard in — and above — Jerusalem. Not sure if these are rocket interceptions, or rocket impacts.
Elsewhere, the government of Turkey has publicly called Israel an "apartheid state", adding that the violence in Jerusalem was an "attack on all Muslims."
This is a rapidly developing story; live updates to appear below . . . check back
Quick Oats #10 Can (3 pack)
UPDATE 12:22 PM EDT —
Palestinian Islamic Jihad group takes responsibility for the Kornet attack against Israeli military vehicle

Hamas takes responsibility for the rocket attacks against Jerusalem – ongoing.
Social Media is lighting up with video of the rocket launches: (Click Here)
Multiple rocket alerts for civilian areas in Southern Israel, the biggest since 2014 Gaza War.
Jerusalem is under fire right now as Hamas and other terrorist organizations in Gaza fire barrages of rockets into the center of Israel.
Red Alert activated for Jerusalem area. A Large rocket barrage was detected from Gaza. Jerusalem hasn't seen rockets from Gaza since the 2014 Gaza war.
The Israeli air defense systems have been activated. Iron dome intercepts some of the massive barrage of rockets from Gaza fired at Jerusalem.
The Palestinian resistance in Gaza fires a burst of rockets towards the Israeli settlements.
Hamas' al-Qaasam Brigades has taken responsibility for the rocket attack against Jerusalem and its surrounding area.
"Al-Qassam Brigades now direct a missile strike to the enemy in occupied Jerusalem in response to his crimes and aggression against the Holy City.." The statement said.
UPDATE 12:28 PM EDT —
Knesset evacuated in Israel due to Hamas rocket attack.
Fears in Israel Tel Aviv will see rockets fall in an unprecedented number in coming hours.
Israeli Ambassador to US blames US CONGRESSWOMAN Rashida Tlaib for stoking Jerusalem tensions.
UPDATE 12:38 PM EDT —
10 dead in Gaza, many of them children, as Israel's first response to attacks emanating from Gaza.
INITIAL REPORTS – NOT CONFIRMED – senior Hamas official Mohamed Abdullah Fadhi killed in a vehicle strike in northern Gaza
Additional info: Al-Qassam Commander Muhammad Abdullah Fayyad was killed in the targeted attack against a motorcycle in Beit Hanoun: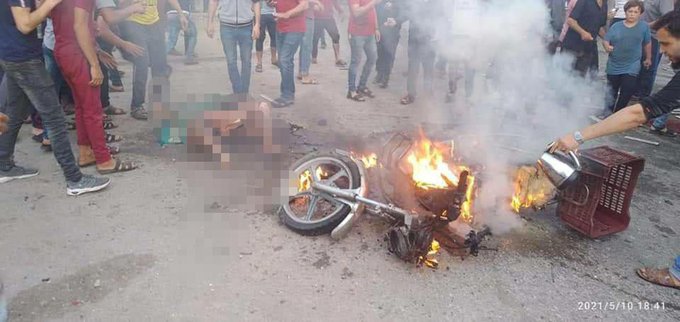 ***** BULLETIN *****
Abu Hamza, spox of the military wing of Palestinian Islamic Jihad, releases a warning message: "Watch 9pm"
Note: Israel is seven (7) hours ahead of the US east coast, so this warning about 9:00 PM in Israel is slightly more than one hour from now . . . .
FWIW- This web site began reporting this story a full twenty-two minutes BEFORE the Associated Press and Drudge Report. Just sayin . . .
***** BULLETIN *****
1:43 PM EDT —
After ferocious exchanges of weapons fire, the Temple Mount is ON FIRE in Jerusalem. Video below:
UPDATE 2:18 PM EDT —
Reports from Lebanon of Israeli jets over south Lebanon coastal area, and Beirut.
GAZA DEATH TOLL SKYROCKETING AFTER IDF AIR STRIKE.
*****WARNING – GRAPHIC IMAGES AND VIDEO *****
Kids from Gaza after IDF Air Strike:
UPDATE 3:24 PM EDT —
PM Netanyahu is heading to IDF headquarter in Tel Aviv.
Analysts say Israel will return to targeted assassinations of Hamas leadership and commanders.

A practice that was applied many years ago but was abandoned because against laws of war and heavy respons by Hamas.
 Already 20 dead in Gaza, 9 of them children. Confirmed by official Palestinian sources and journalists. (Click to Source)
We're so happy to be able to offer you the highest level of Excellence
in a Comprehensive Telehealth Membership Plan
that just about everyone can absolutely afford.
The only thing you can't afford, is to be without it!
PLEASE CLICK HERE FOR MORE INFORMATION!