WORLD HAL TURNER 23 APRIL 2021
The mass-media is publishing celebratory stories about "Russia withdrawing troops from Ukraine Border." Social media is lit up with all sorts of support for Ukraine "staring-down the Russian Bear." Just like back in August, 2008, in (former Soviet) Georgia.
In the summer of 2008, President Saakashvili of Georgia was inspired by U.S. Senator John McCain, to prepare an assault on Osetia and Abkhazia, which were trouble spots for Georgia.
Russia, seeing the trouble being stirred-up by the U.S. Senator, announced some military drills in Russia's Southern Military district.
Everyone in Georgia, and elsewhere in the region got (rightfully) shaken up at the presence of so much Russian Army hardware. They were all relieved when it was announced Russian Troops were Returning to their bases.
Some troops were, of course, left in the area.
When it became clear the locals were going to actually carry out the US-inspired troubles now that Russia departed . . . . It took only 6 hours for Russia's 58th Army to forcibly enter Georgia.
Fast-forward to yesterday and today:
After Russia Defense Minister Shogui announced the completion of military exercises and that troops/ships would be returning to their bases, Russia openly and publicly invited Germany and France to discuss a ceasefire in eastern Ukraine by April 27, a meeting can be held "in Donbas with the participation of Ukraine, DPR and LPR," Deputy Kremlin Chief of Staff Dmitry Kozak said.
4-Week Emergency Food Supply (2,000+ calories/day)
(HT REMARK: This will be promptly rejected by Ukraine. They don't recognize DPR and LPR as entities.  That's why the offer was made. They were trolling Zelensky. He wants to meet "on the frontline." He wants to return Donetsk to Ukraine, but he won't go there.
The Ukraine government has refused to talk to, or even acknowledge the Luhansk/Donetsk parties since this all began with the EUROMAIDEN Coup.

To do so would destroy the carefully crafted and expensive Nuland/Soros/Omidyar Networks " RUSSIAN INVASION!" narratives.

Remember, the coup was all about putting pressure on Russia and Putin, in the first place)
As expected, Kiev REJECTED a proposed meeting in the Donbass including representatives from Luhansk and Donetsk.
Next, Russian President Vladimir Putin revealed that he is ready to welcome his Ukrainian counterpart Volodymyr Zelensky "at any convenient time in Moscow." The suggestion comes after Kiev offered to meet in war-torn Donbass.
Here's the "rub:"
Mass-media and Social Media are all celebrating the announcement today:
"RUSSIA'S DEFENCE MINISTRY SAYS OVER TWENTY SHIPS OF BLACK SEA FLEET RETURN TO PERMANENT BASE" – IFAX
Do any of the folks in mass-media or on social media realize that the base these vessels are returning to is in . . . uhhhh . . . Crimea?
Similarly, when one looks at the Units being "returned to their home bases" almost E V E R Y unit mentioned is based within about 200 KM of Ukraine.
Notice any pattern here? Georgia, 2008, maybe?
What's taking place right now along the Russia Border with Ukraine is **NOT** a withdrawal, it was a strategic relocation of men. The equipment, is STAYING.
That means the Russia Army can bring the men back, have all the equipment at-the-ready when the men get back, and be in full-blown invasion mode within . . . . HOURS.
UPDATE 4:43 PM EDT — As expected Ukraine announces it is ready for negotiations with France, Germany and Russia anywhere in Donbass, but without the participation of the DPR and LPR – speaker of the Kiev delegation to the TCG Alexey Arestovich.
Also, Former Ukrainian president and head of the Ukrainian delegation to the contact group on Donbass, Leonid Kravchuk, refused to travel to Minsk to negotiate the settlement of the conflict.
So Ukraine is already botching-up efforts to even TALK peace; while Ukraine's military actions . . . continue.
For whatever reason, overnight, the Ukraine Army began heavy shelling against areas in Donetsk. Not just mortars, Barreled Artillery.
Donetsk returned fire.
So this thing is far from over. On any level.
Clues in the words
Next, did anyone notice the DATE that Russia mentioned above for Ceasefire meetings? "By April 27."
If this was all over, why the "by" date?
Folks who are truly interested in how this is actually going, would do well to pay attention to the words . . . especially comments made Dmitry Medvedev.
Dmitry Medvedev is Deputy Chairman of the Security Council of Russia since 2020. Medvedev served as president of Russia from 2008 to 2012 and prime minister from 2012 to 2020. Medvedev was elected President in the 2008 election.
Today, Mr. Medvedev made very clear: "Any wrong step would threaten the whole world with a military conflict": Medvedev warns of consequences for the tension between Russia and the United States.
Moreover, folks truly interested in how this is going to proceed should inform themselves about this little gem revealed by Ukraine today:
Joint Forces Operation: according to intelligence Russia plans provocations at Debaltseve direction on 25th April and false flag operation at churches of Moscow Orthodox Church on the Easter(2nd May)
WHOA. Are they telegraphing someone's intent to attack a CHURCH on (Orthodox) Easter . . . . THIS Sunday???????? Heads-up!
Not only the words, but the actions show how this is really proceeding. Right now, as you read this on Friday afternoon, Kiev is pulling equipment and weapons to the line of contact in Donbass, "there is no need to talk about steps towards a settlement on their part" – Russian Foreign Ministry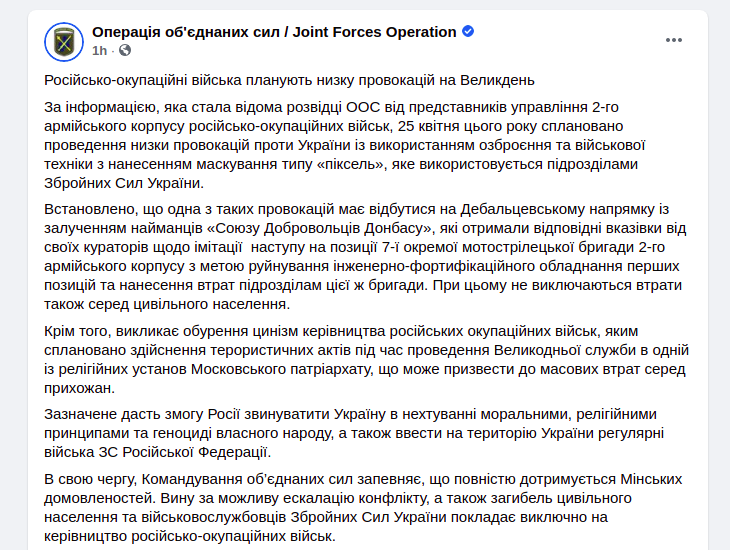 (HT REMARK: I definitely don't claim to know Putin's strategy at this point, but I can guess: Ukraine is going to get smashed.
I think they deserve it. I think they've brought it upon themselves through their vicious attacks against civilians in Luhansk and Donetsk, and through their Presidential Decree stating plainly they plan on militarily taking Crimea from Russia.

I point out possibilities but I'll be the first to point out to people that I could be wrong!

I acknowledge fully that Putin is not only much smarter than me but also has much more – and better – information than I do.

Now that being said, I'm definitely a shit ton smarter than Ukraine President Zelensky, and that's the reason why this situation scares the shit out of me!

Idiots, especially idiots being fed bad information and false assurances that they have powerful allies backing their plays, are prone to make breathtakingly stupid and hard to predict decisions, with no discernable external stimulus.

When you get this kind of extremely disproportionate matchup of intelligence, resources, and group cohesion, shit has this tendency to go entirely batshit crazy out of nowhere.

This is the source of my concern for this situation. We have idiots, who may or may not have access to a few nuclear weapons, trying to outwit Putin.)
Let's not forget The Ukrainian decree #117/2021 still stands, expressing an intention and a plan for the "de-occupation" of East-Ukraine and Crimea. That was what caused the Russian mobilization.
Today, new artillery pieces arrived near the Donbass contact line. Here. Look:
While Putin is pulling the Russian troops away from the border in a good faith effort, Ukraine is continuing to build up its attacking capabilities.
Nothing has changed.
I believe Putin was merely extending the olive branch in a diplomatic removal of forces to open the possibility of de-escalation, but clearly, Ukraine wants war.

I'm sure Russia will give them what they want.
I stand-by my widely disseminated and oft-repeated projection that an actual shooting war will being "on or before May 2."  The fact that Russia wants negotiations done by April 27, and Medvedev explicitly stated "Any wrong step would threaten the whole world with a military conflict" gives me confidence to say this is not over and the worst is still to come. (Click to Source)
We're so happy to be able to offer you the highest level of Excellence
in a Comprehensive Telehealth Membership Plan
that just about everyone can absolutely afford.
The only thing you can't afford, is to be without it!
PLEASE CLICK HERE FOR MORE INFORMATION!