Saturday's negotiations ended without a joint statement on disengagement from the two sides, suggesting that neither was willing to compromise
Troops pulled back from Pangong Tso earlier this year, but other areas of friction remain along their disputed frontier
Rachel Zhang in Shanghai Published: 8:30pm, 12 Apr, 2021
Tensions continue to simmer along the disputed border between India and China after the latest round of talks ended with no sign of progress.
The latest negotiations between the two militaries took place at the Mordor/Chushule meeting point on the Indian side on Saturday and, unlike previous rounds of talks, ended without a joint statement playing up the prospect of disengagement.
Chinese diplomatic observers said this is an indication that the latest talks did not make much progress, and both sides appeared unwilling to compromise.
The two sides agreed to disengage their troops around Pangong Tso two months ago, but points of friction remain, including Hot Springs, Gogra and Depsang in eastern Ladakh.
Zhu Yongbiao, a professor of international relations at Lanzhou University, said that the previous rounds of talks had gone smoothly because they mainly discussed formalities, but it got tougher when they started focusing on the details.
"Now since they are in a stage of substantive negotiations, it's normal and totally predictable that it wouldn't go that well," he said. "It is hard to solve the problem by military negotiations only. To address the issues fundamentally, it might even be necessary for leaders of both states to meet on bilateral or multilateral occasions."
Liu Zongyi, secretary general of the Centre for China and South Asia Cooperation at the Shanghai Institutes for International Studies, said it was possible that tensions would flare up again given the lack of progress from the talks, the arrival of warmer weather which makes it easier to bring in supplies and the drive by the US to strengthen relations with China's neighbours.
"An escalation of tensions in the future is possible, given that the international environment is evolving and getting increasingly complex. India may get more aggressive," he said.
The statement released by the Western Theatre Command of the Chinese military said both sides will maintain military and diplomatic contact, but urged India to "treasure the current positive situation of de-escalation in China-India border regions".
Ready Hour Wireless Solar PowerBank Charger & 28 LED Room Light
A separate statement by India said that the completion of disengagement in other areas would pave the way for restoring calm and that both sides agreed on "the need to resolve the outstanding issues in an expeditious manner in accordance with the existing agreements and protocols".
"Both sides issued joint statements after previous rounds of talks, indicating that China and India were meeting each other halfway on this issue before," said Liu.
"But this time, China's statement saying that it hoped India side 'moves towards the same direction as China' indicated that from Beijing's perspective, India was doing the opposite this time," he said.
"The change in India's attitude was mainly because [Joe] Biden's attitude towards China is relatively clear now, especially after the Quad meeting, which is to unite allies and partners against China."Commanders from China and India have held 11 rounds of talks since June last year, when a deadly brawl in the Galwan valley left several soldiers dead on both sides.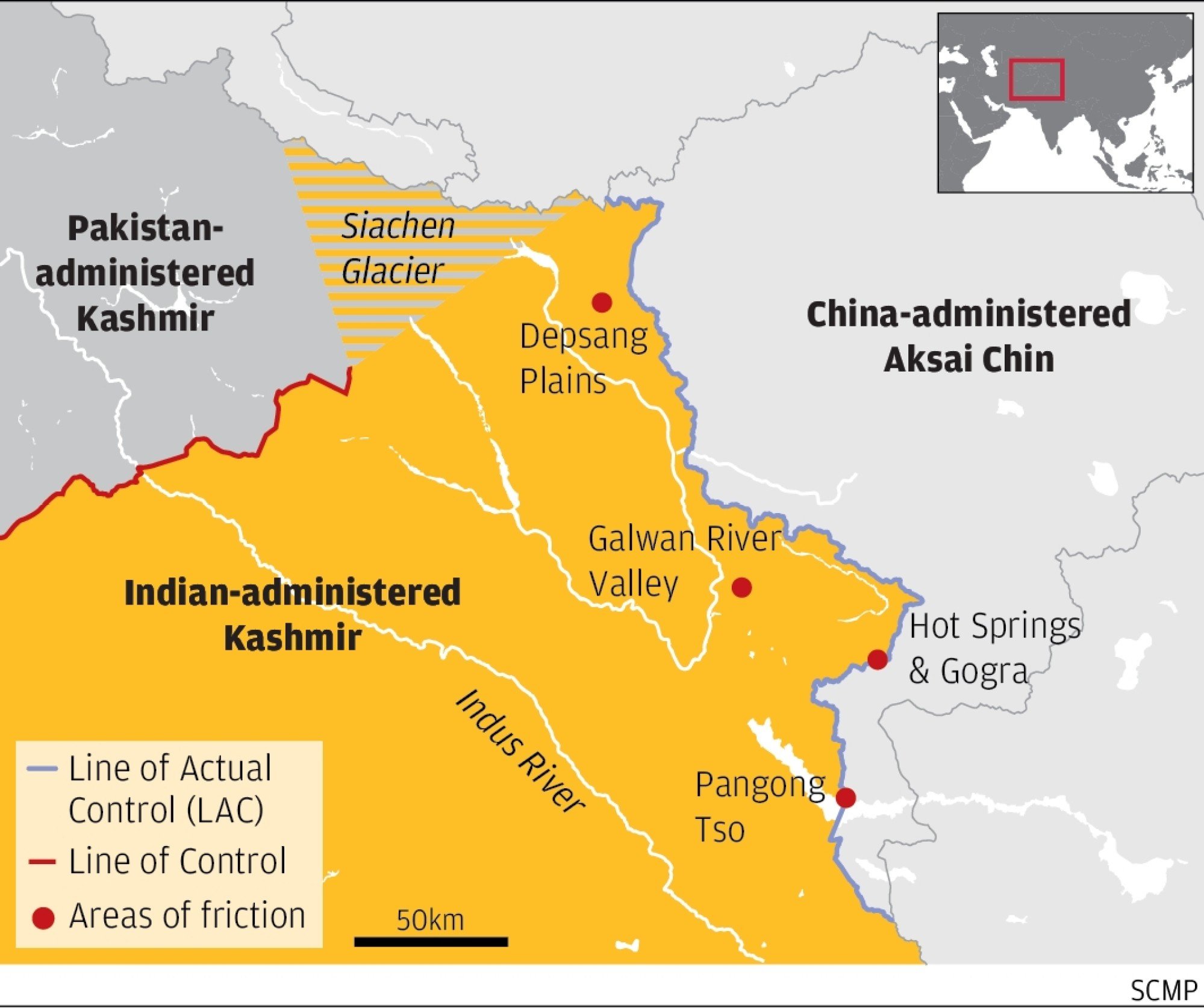 Hot spots in the conflict over the Western border of India and China
China and India had been releasing joint statements since the sixth round of talks in September.
"I think the main conflict in the negotiations was that India wants full disengagement in areas including Hot Springs and Depsang plains and return to what India regards as the 'situation along the Line of Actual Control (LAC) before April 2020', which China doesn't recognise. The two sides diverge on the exact situation of the LAC before April 2020," Liu added.
The Line of Actual Control is the de facto border between the two sides, but they do not agree on its exact location.
Lin Minwang, a professor at the Institute of International Studies at Fudan University, said that Chinese statement showed that China was disappointed.
"The Chinese side thinks it has made compromises to achieve the disengagement at Pangong Lake in February, in the hope that India could also make compromises during the disengagements from other areas, such as Hot Springs and Depsang Plain. However, it seems that India didn't do so," Lin said. (Click to Source)
We're so happy to be able to offer you the highest level of Excellence
in a Comprehensive Telehealth Membership Plan
that just about everyone can absolutely afford.
The only thing you can't afford, is to be without it!
PLEASE CLICK HERE FOR MORE INFORMATION!