Eight full days ago, on March 20, this web site made casual mention the about 220 vessels from the China Maritime Militia had suddenly appeared — and moored — inside the Philippines Exclusive Economic Zone. Today, the Philippines put their Air Force on "Alert" over those vessels.
In a COVERT INTEL story released to subscribers of this web site (HERE) we reported on the build-up of Russian Army forces along the border of Ukraine and within that Intel Briefing, we casually mentioned the following:
WHOA . . . . the Game is REALLY Afoot! CHINA SURPRISE
The National Task Force for the West Philippine Sea (NTF-WPS) received a confirmed report from the Philippine Coast Guard (PCG) that around two hundred twenty (220) Chinese Vessels (CFVs), believed to be manned by Chinese maritime militia personnel, were sighted moored in line formation at the Julian Felipe Reef (Whitsun Reef) on March 7, 2021.
But today, March 20, activity aboard those vessels left observers thinking the crews were conducting "military drills."
We also went on to show images of the assembled vessels and reported further that: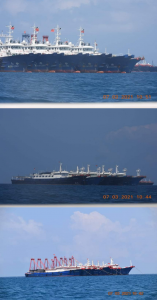 The Reef is a large boomerang shaped shallow coral reef at the northeast of Pagkakaisa Banks and Reefs (Union Reefs), located approximately 175 Nautical Miles west of Bataraza, Palawan. It is within the Philippine Exclusive Economic Zone (EEZ) and Continental Shelf (CS), over which the country enjoys the exclusive right to exploit or conserve any resources which encompass both living resources, such as fish, and non-living resources such as oil and natural gas.
So here we are, over a WEEK LATER, and the mass-media, via REUTERS, is now reporting:
Philippines leader Rodrigo Duterte has complained to Chinese ambassador about Chinese naval forces that have been massing in the area. In recent days, international concern has grown over what the Philippines has described as a "swarming and threatening presence" of more than 200 Chinese vessels that it believes were manned by China's maritime militia. The boats were moored at the Whitsun Reef within Manila's 200-mile exclusive economic zone.
Tonight, I can report to you that the Philippines has officially put its Air Force on "Alert" over these Chinese vessels. According to some of my former colleagues in the Intelligence Community, with whom I developed relationships during my work with the FBI Joint Terrorism Task Force from 2003-2008, China told the Philippines President . . . . ready for this . . . . . he should "Be quiet about the boats since there is nothing he can do about them."
Wrong thing to say.
It now appears that the Philippines are preparing to make moves against those vessels since China has not only failed (refused) to remove them, but have now insulted the President of the Philippines as if he doesn't matter at all. (Click to Source)
We're so happy to be able to offer you the highest level of Excellence in a Comprehensive Telehealth Membership Plan that just about everyone can absolutely afford. The only thing you can't afford, is to be without it! PLEASE CLICK HERE FOR MORE INFORMATION!