WORLD HAL TURNER 20 MARCH 2021
UPDATED SUNDAY 11:08 AM EDT — SEE BOTTOM
FLASH traffic has come over Intel Circuits regarding the situation in Ukraine.
According to Intelligence Sources, Ukraine President Volodymyr Zelensky has SIGNED an ORDER authorizing Ukraine military forces to attack and take by force, the breakaway oblasts (states) of Luhansk and Donestsk, collectively referred to as "The Donbass."
Here is a map for readers to better grasp the area involved:
The countdown to the start of full scale conflict in eastern Ukraine has commenced.
According to high-ranking Russian sources, Kiev completed its transfer of military forces and when President Zelensky was told the troops and assets were in-place, he signed the attack order.
Specifically, the Intel Sources report "the document prepared by Ukrainian authorities authorizes Ukrainian soldiers to open fire on the Donetsk and Luhansk forces at any time they deem necessary."
BOMB SHELTERS OPENING
In Donetsk and Luhansk, Bomb shelters were prepared and opened to receive the civilian population.
Signs reading "SHELTER" or "WAR SHELTER" were hastily painted on the outside of buildings for quick reference by anyone caught outside once the bombing commences.
HERE:
HERE:
AND HERE:
Fighting is already said to be taking place on-and-off in skirmishes at Donestsk Airport
NATO VESSELS MOVING TOWARD CRIMEA
Two more American ships were added to two Spanish frigates in the Black Sea. USS Monterey joined USNS Watson
and USS Thomas Hudner, shown below entering the Bosporus Strait today, en-route to the Black Sea: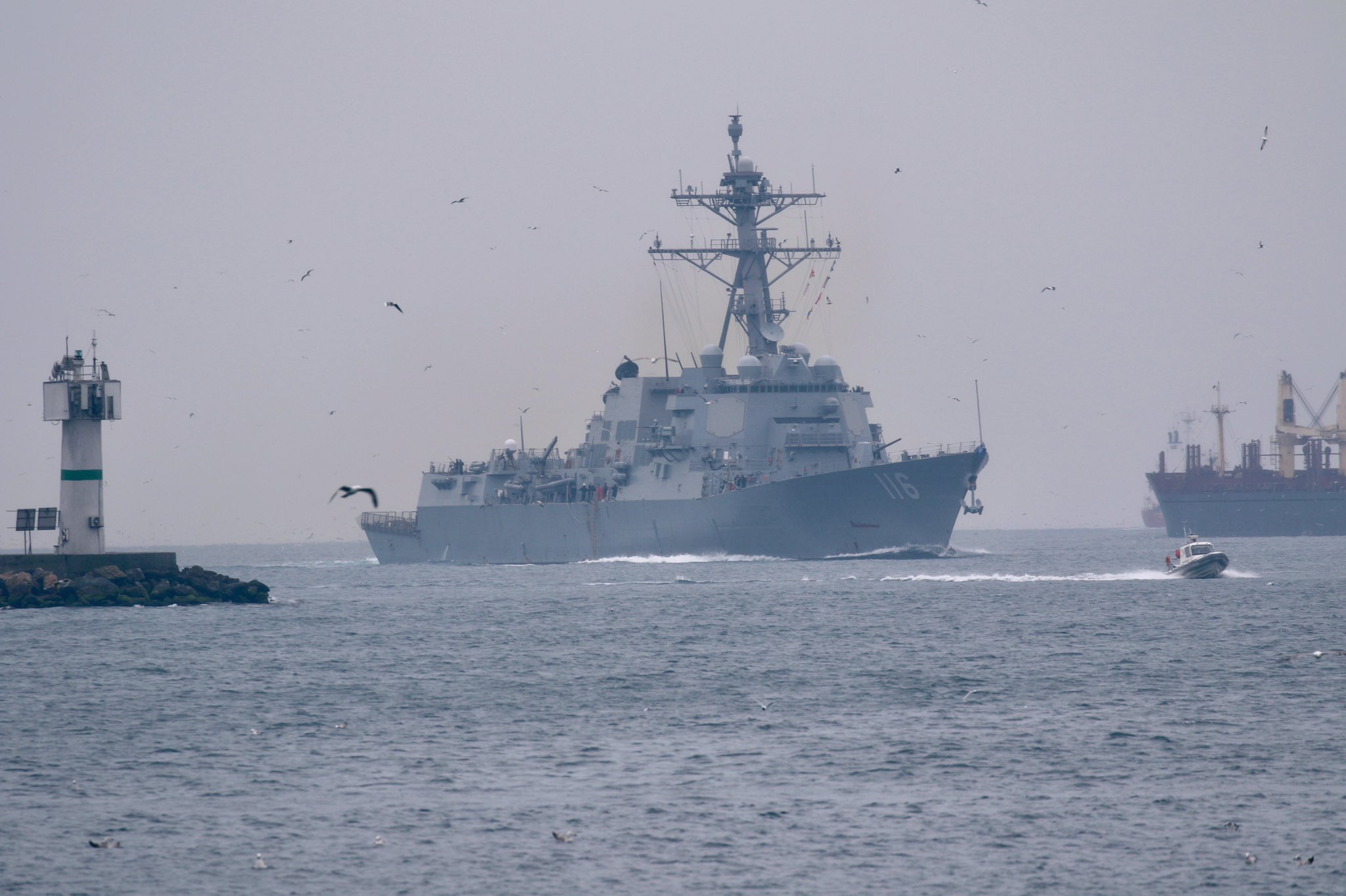 The ships are heading to the southwest coast of Crimea as "special military exercises" have been planned.
In the area are the Spanish frigates Méndez Núñez (F104) and Cristobal Colon (F-105), the USS Thomas Hudner (DDG-116), the USNS Watson, and the USS Monterey (CG-61).
Meanwhile, Russia has been transporting tanks and special forces of VDV paratroopers to the border with Ukraine in Crimea and Nizhny Novgorod.
The map below shows Nizhny Novgorod is only about 800 miles from the Ukraine Border; beyond missile range of Ukraine, deep inside undisputed Russian Territory, yet only about an hour or two by plane from what will likely be the war front:
https://www.google.com/maps/embed?pb=!1m18!1m12!1m3!1d11580328.523549851!2d27.97347012194918!3d53.42544091419159!2m3!1f0!2f0!3f0!3m2!1i1024!2i768!4f13.1!3m3!1m2!1s0x4151d5f9ee033251%3A0x28d3c0cf849657aa!2sNizhny%20Novgorod%2C%20Nizhny%20Novgorod%20Oblast%2C%20Russia!5e0!3m2!1sen!2sus!4v1616290589991!5m2!1sen!2sus
"Russia has announced its full support for Donbass," Russian media reported.
Large-scale exercises of airborne forces and marines are taking place in Crimea. The same is true in the Nizhny Novgorod region.
"In this way, Russia has made it clear that it will be actively involved militarily," Russian media stressed.
RUSSIAN ARMY ON-THE-MOVE
Large convoys of Russian Army Troops are on-the-move in various parts of western Russia; all said to be moving west toward the border between Russia and other European Nations including Ukraine.
So many convoys are moving in so many places, it has taken the Russian people by surprise. Videos, like the one below, are now emerging from inside Russia showing the sudden and very large mobilization:
RUSSIAN AIR FORCE MOBILIZES BOMBERS
The Russian Air Force has re-positioned TU-22M3 Bombers to the Kaluga Region shown on the map below, just a few minutes flight time from Ukraine:
https://www.google.com/maps/embed?pb=!1m18!1m12!1m3!1d11629521.007820597!2d24.817636870422813!3d53.24464013668159!2m3!1f0!2f0!3f0!3m2!1i1024!2i768!4f13.1!3m3!1m2!1s0x4134b9fc78b93039%3A0xcb584437cde02e42!2sKaluga%2C%20Kaluga%20Oblast%2C%20Russia!5e0!3m2!1sen!2sus!4v1616292993420!5m2!1sen!2sus
Pilots are now actively practicing take-offs and landings from the air field in the Kaluga Region:
The Game's Afoot
Russia has now also begun massing its Navy in the eastern Mediterranean Sea, off the coast of Israel and Lebanon.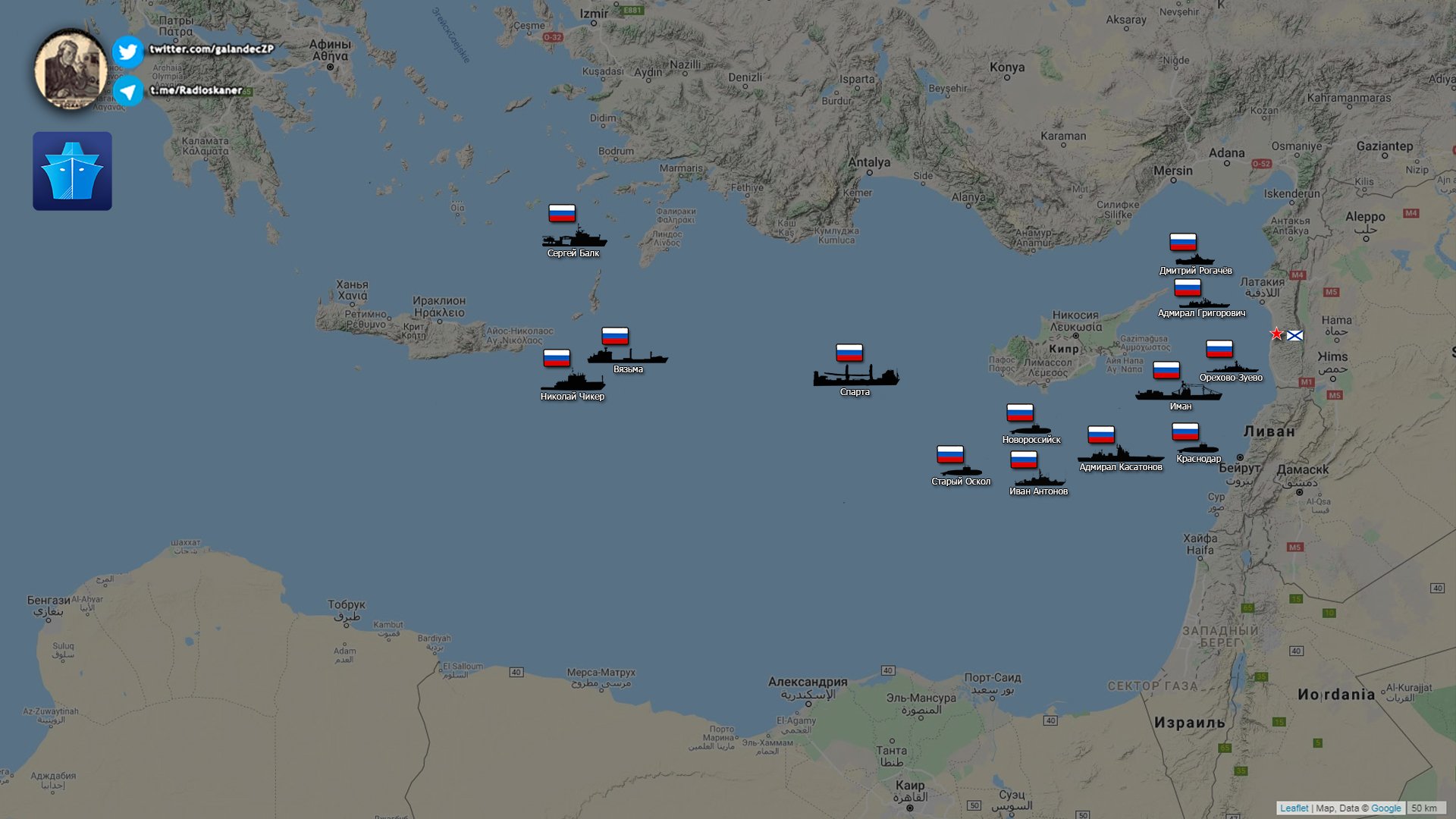 Are they there to protect Syria . . . or for something else?
WHOA . . . . the Game is REALLY Afoot! CHINA SURPRISE
The National Task Force for the West Philippine Sea (NTF-WPS) received a confirmed report from the Philippine Coast Guard (PCG) that around two hundred twenty (220) Chinese Vessels (CFVs), believed to be manned by Chinese maritime militia personnel, were sighted moored in line formation at the Julian Felipe Reef (Whitsun Reef) on March 7, 2021.
But today, March 20, activity aboard those vessels left observers thinking the crews were conducting "military drills."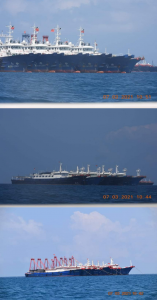 The Reef is a large boomerang shaped shallow coral reef at the northeast of Pagkakaisa Banks and Reefs (Union Reefs), located approximately 175 Nautical Miles west of Bataraza, Palawan. It is within the Philippine Exclusive Economic Zone (EEZ) and Continental Shelf (CS), over which the country enjoys the exclusive right to exploit or conserve any resources which encompass both living resources, such as fish, and non-living resources such as oil and natural gas.
More if I get it . . . .
Hal Turner
UPDATE 11:08 AM EDT SUNDAY MORNING —
During the night, Russian warships took-up station in the English Channel, within firing range of London.
In connection with the increased activity of NATO in the Black Sea, Russia is mobilizing a group of warships of the Baltic Fleet: Kaliningrad (102), Minsk (127), Korolev (130) and Boykiy (532). The group is in the English Channel for V E R Y S L O W "innocent passage." (Click to Source)
We're so happy to be able to offer you the highest level of Excellence in a Comprehensive Telehealth Membership Plan that just about everyone can absolutely afford. The only thing you can't afford, is to be without it! PLEASE CLICK HERE FOR MORE INFORMATION!