BY ZACHARY STIEBER February 5, 2021 Updated: February 5, 2021
Senators from both parties said Thursday they don't want former President Donald Trump to testify during the upcoming impeachment trial.
"Of course not. They want a ridiculous show trial because they're more motivated by partisan anger than they are to actually solving the very real problems we have in this country. We need to get to work and do our jobs," Sen. Ted Cruz (R-Texas) told reporters on Capitol Hill.
Asked the same question, Sen. Ron Johnson (R-Wis.) shook his head as he walked away.
Rep. Jamie Raskin (D-Md.), the lead House impeachment manager, asked Trump in a Feb. 4 letter to testify in person about his disagreements with the impeachment resolution the House passed last month.
"In light of your disputing these factual allegations, I write to invite you to provide testimony under oath, either before or during the Senate impeachment trial, concerning your conduct on January 6, 2021," Raskin wrote.
Trump was impeached for alleged incitement of insurrection. The resolution asserts he incited the Jan. 6 Capitol breach.
Trump's legal team rejected Raskin's request, describing it as a "public relations stunt."
"There is no such thing as negative inference in this unconstitutional proceeding," attorney David Schoen wrote to Raskin. "Your letter only confirms what is known to everyone: you cannot prove your allegations against the 45th president of the United States, who is now a private citizen."
Sen. Lindsey Graham (R-S.C.), the former Senate Judiciary chairman, told reporters that the request for Trump to testify was a "political ploy," according to the Capitol Hill pool report.
Predicting Trump wouldn't testify, he added: "I don't think that would be in anybody's interest."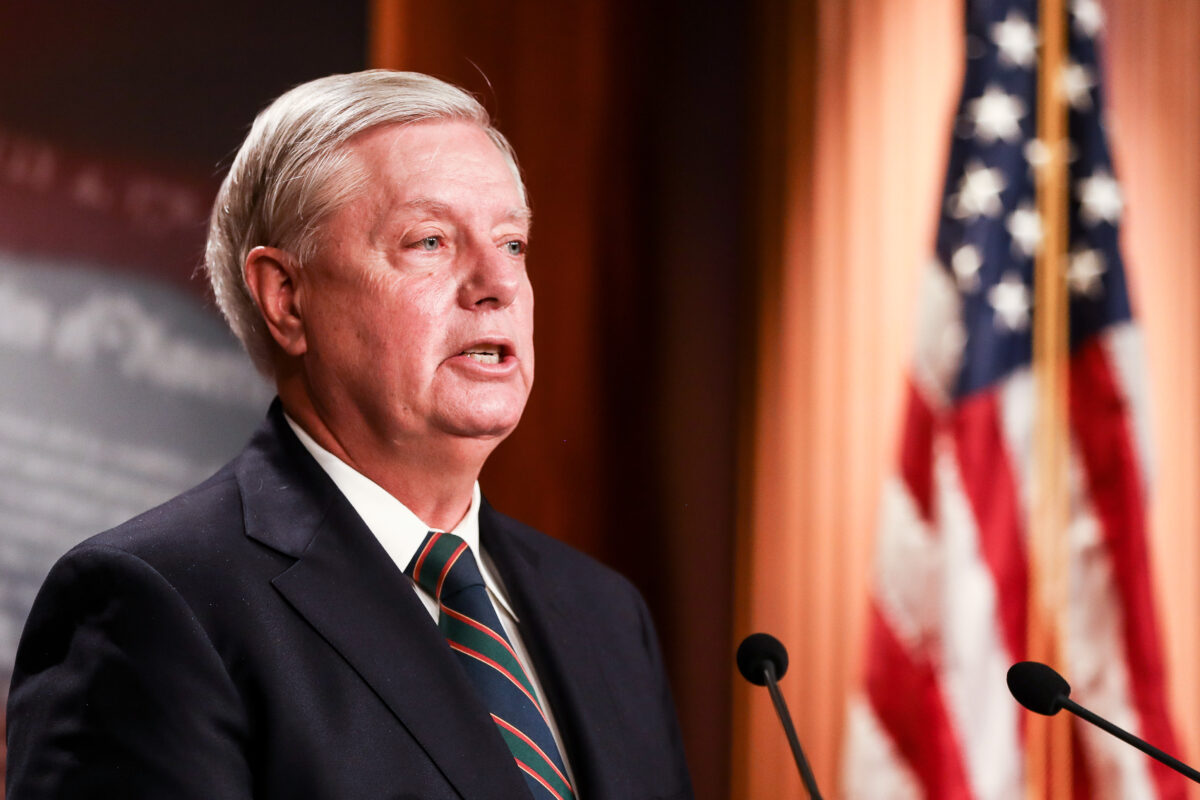 The House impeached Trump without calling any witnesses, a departure from previous impeachment efforts. Senators last year rejected attempts to pressure the upper chamber to call witnesses, saying it's not the Senate's role. Sen. Chuck Grassley (R-Iowa) told reporters that "the House didn't do their work as a grand jury, and they expect the Senate to do their work."
"I don't know why we have to pick up the pieces for the inadequacy of the House of Representatives," he added.
Several Democrats also said they don't want Trump to testify.
Sen. Chris Coons (D-Del.), a close ally to President Joe Biden, said it would be a "terrible idea." Sen. Joe Manchin (D-W.Va.) said it would "be a dog and pony show."
Forty-five Republicans voted recently to declare holding a trial for Trump unconstitutional since he's now a private citizen. According to a tally by The Epoch Times, 35 have suggested or committed to voting to acquit Trump in trial, which is slated to start next week. Unless Democrats sway 17 of the 50 Republicans in the upper chamber, Trump will be acquitted.
"The trial is already over. They don't have the votes to convict," Sen. Rand Paul (R-Ky.) told reporters on Thursday. "This is just, I think, continuing to embitter the public. It's divisive, and it does nothing to promote unity. I think it's a big mistake on the Democrats' part." (Click to Source)