Submitted by Dave Hodges on Tuesday, November 10, 2020 – 13:49.
This article is going to review, highlight and report the repeated threats from leaders on the LEFT. The intention is to "punish" those who opposed the extreme left. Concentration camps are being built. Foreign armies are poised off of our border and we have promises from Harris. AOC and Michelle Obama to create lists of Americans who opposed them. This can only mean one thing. Please walk through the evidence and then arrive at the conclusion that I have, concentration camps lie in the future for many conservative Americans.
Are CHICOM Canadian Concentration Camps Being Prepared for Americans?
As previously reported on the CSS, CHICOM troops are inundating British Colombia with the permission of Trudeau who says that the CHICOMS have a right to defend their interests on Canadian soil.
The above-mentioned event coincides with members of the Canadian government challenging Trudeau's intent to build covid-19 "isolation centers" in Canada to house suspected Covid patients. This has led to Canadian elected officials to challenge the true intent of what is really going in Canada as evidenced by the following: 
Following MP Hiller getting his mic cut off, he made the following statement:
The Premier has been actively dodging my questions since July. Today was just another example of the new status quo in Queen's Park, no response. After this exchange I'm not even sure if the Premier and his Cabinet know what's going on regarding the Federal government considering the expansion of isolation/quarantine facilities from coast to coast. The language in the RFI is overly broad and ambiguous, and we ought to have clarification on the purpose of these isolation/quarantine facilities. I asked clear and precise questions about the Federal government's tendering for "isolation/quarantine camps" in Ontario.

Where will they be,

how many will there be,

and how many people will be housed?

The Government House Leader suggests these are for "international travellers", however the RFP says "public health and other related federal requirements associated with the COVID-19 pandemic response." My question on the purpose was cut short and once again the government refused to give an answer. Why won't they answer? It seems to me they aren't even aware of these proposals.
Persecution of Trump Supporters by the Leaders of the DNC
Let's begin connecting some dots.
On October 20, 2020, I published the following information that showed that Trump supporters were going to be targeted by leftist terror groups.
The Plot Against Trump Supporters Surfaced In New Hampshire
The first verifiable indicator that Trump supporters are at risk to having their home burned down and worse, came from a lady in New Hampshire:
Hi Dave, this happened in a town near me, in Milford NH!
Thanks for all you do, and God Bless❣️

Threatening letters sent to homes of Trump supporters, police say

https://wmur.com/article/threatening-letters-sent-to-homes-of-trump-supporters-police-say/34419218?src=app
I opened the transcript, and here is an excerpt of what I found from the TV report emanating from WMUR TV with reporter Tim Callery
A video of the news report is available at the link listed above.
TAKING THIS VERY SERIOUSLY AND THEY ARE NOT THE ONLY DEPARTMENT INVESTIGATING. >> YOU HAVE BEEN IDENTIFIED AS A TRUMP SUPPORTER.

TIM: THIS IS THE LETTER MAILED TO THE HOME OF KELLY, A MILFORD RESIDENT WHO WISHED TO BE IDENTIFIED ONLY BY HER FIRST NAME. >>

"YOUR ADDRESS HAS BEEN ADDED INTO OUR DATABASE AS A TARGET FOR WHEN WE ATTACK SHOULD TRUMP NOT CONCEDE THE ELECTION. "

TIM: THE ANONYMOUS AUTHOR GOES ON TO SAY THEY HOPE KELLY'S HOME INSURANCE HAS FIRE COVERAGE. >>

"…POLICE SAY THIS SAME LETTER WAS MAILED TO OTHER HOMES THAT HAVE SIGNS SUPPORTING PRESIDENT TRUMP. THE DEPARTMENT IS NOW INVESTIGATING AND HAS CONTACTED THE ATTORNEY GENERAL'S OFFICE… POLICE CHIEF BILL QUIGLEY ALERTED THE U.S. POSTAL INSPECTION SERVICE, AND SAYS WHOEVER IS BEHIND THE LETTERS COULD "FACE SERIOUS CHARGES. NOT ONLY WITH US CRIMINAL THREATENING ON A FELONY LEVEL, BECAUSE OF THE THREAT OF BURNING HOMES DOWN AND CAUSING INJURY, BUT ALSO WITH THE POSTAL INSPECTORS, SOMETHING ON THE FEDERAL LEVEL.
Because the MSM is involved as well as local New Hampshire law enforcement, I am a little more that curious. However, this is only one location and it could be a prank, although law enforcement seems to be taking it very seriously.
Before the night is over, a person from my audience sent information from Hal Turner's radio show which explicitly speaks to the same terrorist activities as is being investigated in New Hampshire and the presumed FBI agent anonymously sent to me.
Bad News Comes In Threes
People in Kansas City, MO woke up this morning to written THREATS being posted on their homes. The letters say the home has been TARGETED FOR ATTACK in CIVIL WAR over Trump!
More proof comes from twitter which contains confirming information (I am guessing that Jack Dorsey forgot to censor this tweet as he did with the NY Post revelation about the Biden crime family). This tweet also appears on Hal Turner's site.
These fliers are being left in Kansas City neighborhoods. This on top of our former KS National Committeeman getting run over on his yard due to his Trump sign. Please pray that America will reject this violence and hate.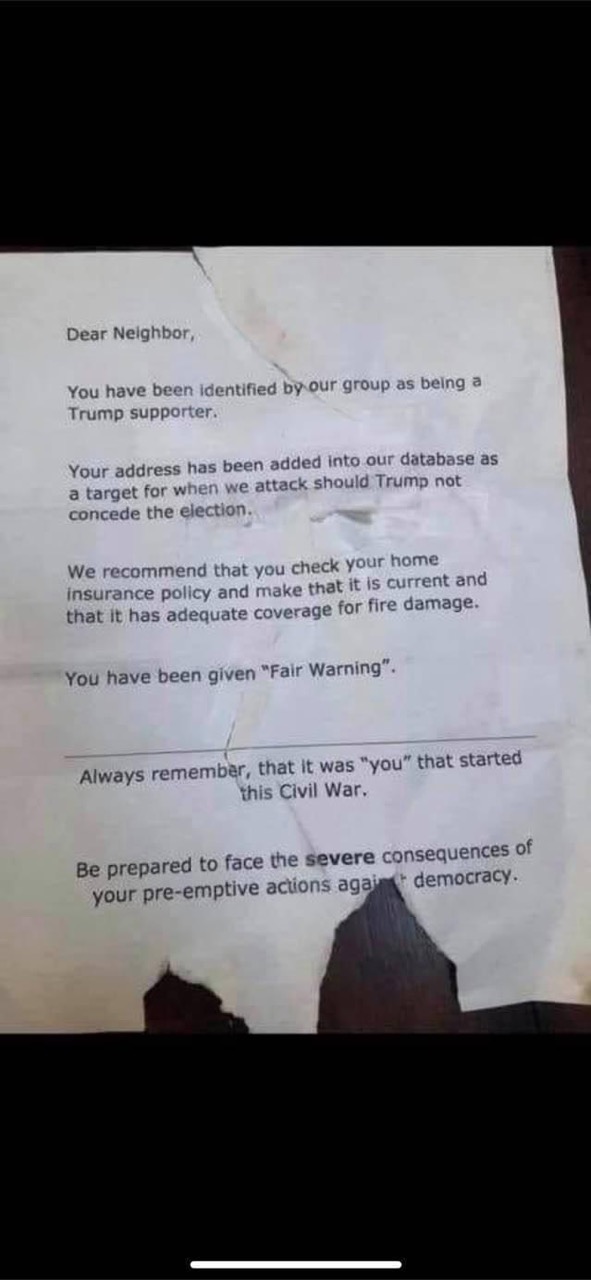 So, what are we left with? Now, New Hampshire is a long way from Kansas City which clearly makes this a national threat. The tweet represents the strongest evidence that there is a nationally orchestrated terror plot being directed aginast Trump supporters. This is the beginning of the ramping up of terrorist street activities involving Antifa. This material points to a possibly deadly attack being planned against innocent American citizens. The following is a summation of what we know at this point in time.
1. We have an anonymous tip from a presumed federal agent (not Wrecker).
2. We have law enforcement and mainstream media involvement in New Hampshire of the same issues.
3. The tweet from Kansas City and Hal Turner's posting of the terrorist material closes the loop on the fact that is a nationally orchestrated violent plot that is in the process of being carried out.
But wait, there is more to report. Another member of my audience sent me the following message and it is very telling as evidenced by the following link:
They may be getting their addresses and names from this website: https://donaldtrump.watch/ previously named Racist.Watch which is using the public database of Trump Campaign donors to compile a list of those who the BLM/Antifa/Demonrats deem opposition to them in this civil war.

I would suggest all neighbourhoods work together in a neighbourhood watch type style, along with local militia and Police/Sheriffs to defend your neighbours and neighbourhoods, urge well trained gun owners to become deputised to also help, and finally flood trump with this information, so he can help at the federal level.

God bless you all and God bless Trump and the United States of America!
Click on the link in the above email. It is a website that is threatening people who have donated to Trump supporters. Personally, I have identified two people who I know and they are on the list. I have notified them of the threat and told them to take defensive action.
Criminal activity is already in play with the threats to burn down Trump supporters homes and this constitutes a clear and present danger to all conservative Americans. We can easily lay this at the feet of the criminal Democratic Party and the Deep State that they represent. If one did not believe that the civil war has not begun, perhaps you should share this article.
One who was spitting nails was Biden's running mate Kamala Harris, an arrogant woman who will soon be president once lunchbucket Joe has been shuffled off to the basement for good.
Harris warned: "We won't forget this" after Barrett's confirmation.
Via The Hill, "Harris blasts GOP for confirming Amy Coney Barrett: 'We won't forget this'":
Democratic vice presidential nominee Kamala Harris admonished Senate Republicans for confirming Amy Coney Barrett to the Supreme Court on Monday, vowing that Democrats "won't forget" a move they have described as a power grab.

"Today Republicans denied the will of the American people by confirming a Supreme Court justice through an illegitimate process — all in their effort to gut the Affordable Care Act and strip health care from millions with pre-existing conditions," Harris said Monday minutes after Barrett was officially confirmed to the court. "We won't forget this."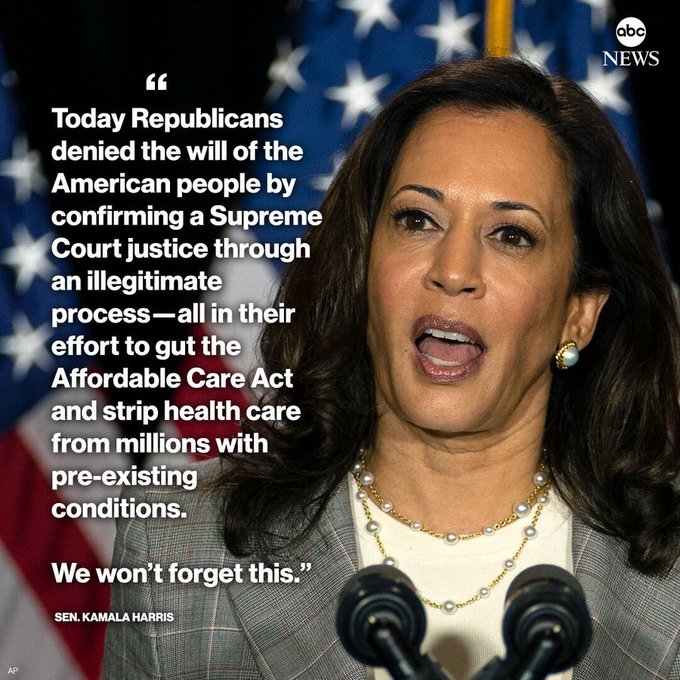 Kamala promises to never forget anything. Who can forget when she said the following in June of 2020?
Fellow tyrant AOC has weighed in on what she thinks should be done with Trump supporters.


Is anyone archiving these Trump sycophants for when they try to downplay or deny their complicity in the future? I foresee decent probability of many deleted Tweets, writings, photos in the future
So AOC wants to create a list?
What does history teach us about people and groups that end up on a list?
When we connect the dots we have the following:
1. There are multiple instances where the left, including Harris, Obama and AOC, want to create a list in order to punish those who opposed the Democrats.
2. The Canadians are building concentration camps for more than just COVID.
3. In previous CSS articles, it was clearly been established that there is a strong presence of CHICOM military in British Colombia.
Michelle Obama has weighed in on the persecution of Trump supporters:
"If you take one thing from my words tonight it is this: If you think things cannot possibly get worse, trust me, they can and they will if we don't make a change in this election."
So are the words of the DNC female leadership, just rhetoric or intent as they collectively are saying that Trump supporters are going on lists and things are going to get worse for Trump supporters. If these are not death threats, then what could they possibly mean? Perhaps we should look north of the border for a clue.
Finally, I have spoken a Trump adviser and some who speaks to Trump advisers and the confirm what I am about to conclude based on the evidence. The new administration of Biden-Harris, is planning to arrest and deport to Canadian concentration camps undesirable people who opposed them. And what one source told last night, they fully expect the CHICOMS to be running the Canadian Concentration camps. For the Harris-Biden administration to implement their communist, Bolshevik inspired goals, they need to neutralize at least 71 million Trump voters.
Given the statements and actions of the Democrats who have executed a coup against not only Trump, but the American people as well as the Constitution, why should we not believe that the collective fate of Trump supporters could land us in concentration camps? After all the man who started Obama's political career, Bill Ayers, once told an FBI informant, the late Larry Grathwohl, that if these communists ever took over the country that they would put "50 million Americans in re-education camps and have to do away with over half of them".
From Bill Ayers expression of genocidal intent, to former President Obama, to Michelle Obama, to AOC promise of creating lists, to the Harris-Biden administration, what possible other conclusion could be drawn that these communists have collectively threatened the lives of every conservative American? (Click to Source)