On May 14, China's National Health Commission announced three new infections in the entire country, two of them in Shenyang city in northeastern Liaoning Province, and one in Jilin city, Jilin Province. It didn't report new data for Wuhan.
Full Lockdown
Earlier in the week, authorities announced six new infections in Wuhan on May 10 and 11.
They were all residents of the Sanmin residential compound in Dongxihu district. After the diagnoses, authorities locked down the compound area, restricting movements and requiring nucleic acid tests for all residents.
On May 14, Wuhan residents shared a video on social media showing several workers installing a steel panel at the entrance to the compound.
"They fully sealed the [Sanmin] residential compound with steel panels. The authorities are very extreme! I can't understand," a Wuhan resident told the Chinese-language Epoch Times.
A resident in Sanmin residential compound told The Epoch Times that no one in the compound was allowed to leave for work. All must remain indoors.
"Thirteen more newly diagnosed patients are from our residential compound," he said, adding that authorities didn't announce these infections, but residents were sharing information through word of mouth. "More than 300 others are being isolated at quarantine centers."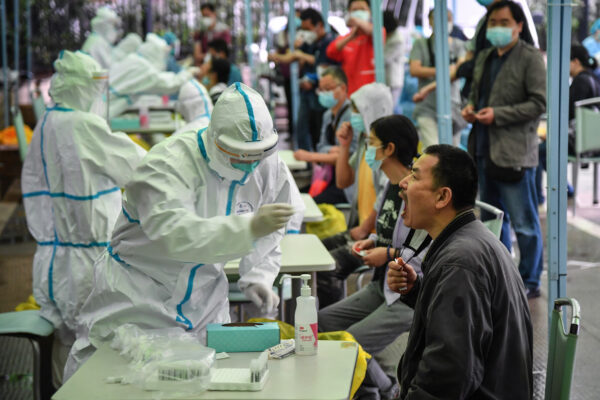 The compound has factories, schools, and stores within its premises. All of them were forced to close.
Another compound resident told The Epoch Times that local authorities have required all residents to be quarantined at home for 14 days
He said he witnessed authorities set up more than 10 tents at the compound on May 10, with government staff, local hospital staff, and local police visiting the compound. For the past few days, staff would arrive to pick up samples from the roughly 4,900 residents for nucleic acid testing and blood antibody testing.
The resident said he believed that the infection numbers were being underreported.
Panic
On May 14, the Wuhan government ordered all city residents to receive a nucleic acid test to determine whether they were infected.
The Epoch Times received several videos from Wuhan residents, showing long lines at testing sites set up on the streets, despite heavy rain.
Medical staff swab saliva from people's throats. Then, the saliva sample is sent to a hospital or test center for results.
To prevent potential contamination, medical staff must change gloves after each sample they collect.
However, Wuhan residents complained that medical staff didn't change their gloves, and expressed fear of becoming inadvertently infected.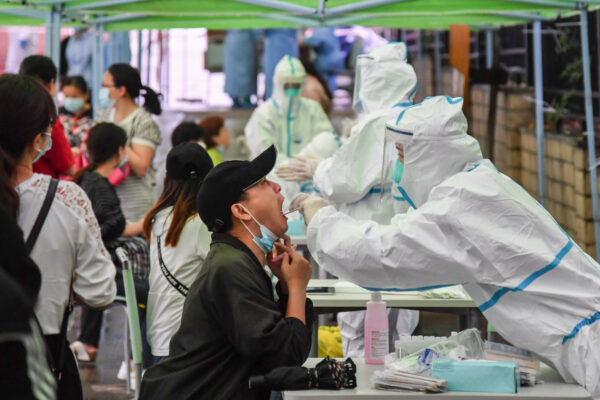 Netizen Miaomiao said on Weibo, a Twitter-like platform, that her employer arranged for staff to be tested on May 14. "All employees got wet after waiting in the heavy rain, which may cause us to catch a cold," she wrote in her post. "In fact, most people felt nauseous when the Q-tip touches the throat. Some even coughed. However, the medical staff collected the samples without changing gloves."
Liuyin Zhixia complained on Weibo: "My neighbor went to test this morning. He said the medical staff's glove touched his oral cavity. He was very scared and gargled with salt water [when he got home]."
As authorities use checkpoints to monitor people's movements, it would be difficult for a Wuhan resident to avoid taking the test. Government staff scan a cellphone-generated health code. Only those who receive a green health code—meaning they have never been in contact with the virus—can move around freely.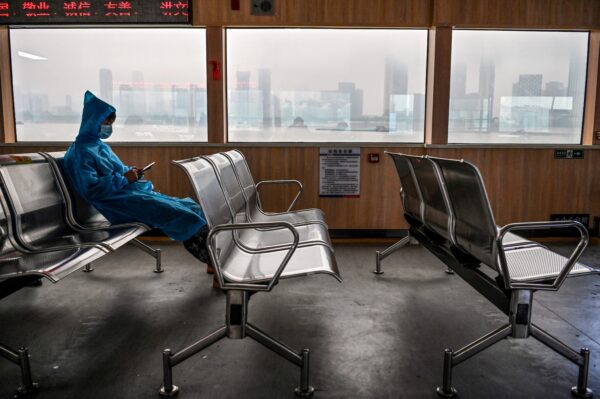 Local residents also became concerned after they noticed that online retailers notified their customers that they would suspend shipping goods to Wuhan due to the recent outbreak.
Netizens shared a May 12 notice from China courier company ZTO Express and its partner Jinjun Logistics informing customers that its staff wouldn't pick up or deliver packages to several districts in Wuhan.
Hours later, the two companies denied the information in the notice.
However, many Chinese netizens posted on Weibo that local couriers wouldn't send their packages to Wuhan.
In recent days, social media videos also showed several people in Wuhan who suddenly collapsed on the streets. Due to fears of the virus, bystanders nearby did not dare to approach them.
It is not known what caused them to fall ill. In one video, first aid workers dressed in a protective suit tried to resuscitate the man. They announced that he passed away on the scene. (Click to Source)
100% FREE ONLINE RECOVERY PROGRAM to anyone who wants to fully recover. We are a Biblical Online Recovery Outreach Program that is life changing and empowering. Adult & Teen Challenge Certified Teachers and certified Life Coaches will be working with you, and your loved ones, by video conference and phone with 24/7 support by text, chat and email. Contact us today and receive our gift of recovery.