---
"He didn't believe it was the dogs at all until he heard the 911 tape."
---
Meet Remy and Bomber — two attention-loving pups who will go to great lengths to get what they want, even if it means getting the cops involved.
On Thursday morning, the Lakeville Police Department in Minnesota received a strange phone call. The 911 dispatcher answered the phone and was met with only silence on the other end of the line.
From there, the mystery only deepened. When officers Michelle Roberts and Emily Bares arrived at the location of the calls, the house was locked and seemingly empty.
However, both officers knew that was impossible.
"By the time we got there they had gotten three more 911 calls in that span of time," Officer Roberts told The Dodo. "In a couple of them they heard dogs barking in the background, but no human voices at all."
After a walk around the property, both officers left — but the calls kept coming in.
So Roberts decided to return and attempt to make contact one last time. She found a cell phone number for the homeowner and obtained the code for the garage.
"I was more concerned because I thought there was a human in there who can't talk or move and just keeps calling for help," Roberts said. "I never thought it was the dogs, that's for sure."
As soon as she entered, she was met by a hound mix and his Papillon partner in crime. The two dogs seemed a bit bashful about the trouble they had caused, but they were ultimately pleased with the results.
"They barked at first and then they were a little timid," Roberts said. "But that didn't last very long. They just wanted to be pet and they were super friendly."
Roberts wandered into the home office and, sure enough, a forgotten cell phone lay on the desk.
"It was on 'emergency call only,' so the dogs would have only had to hit the screen with their paw or their nose and that would have enabled them to call 911," Roberts explained.
Roberts theorized that the approximately 45-pound hound could have reached the phone if he stood on his hind legs or, more likely, could have jumped up on the desk chair to reach the phone.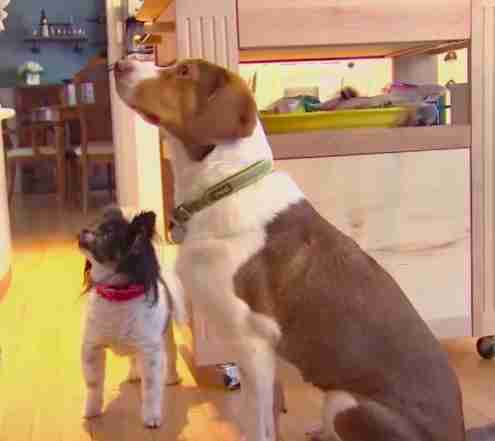 And even the pups' owner found the explanation for the 911 calls unlikely.
"He didn't believe it was the dogs at all until he heard the 911 tape with the dogs barking in the background and you can tell they're really close," Roberts said. "Then he seemed kind of baffled."
"The homeowner did take the phone into AT&T to find out if there was anything wrong with the phone," Roberts added. "They confirmed that there was not."
After 20 years on the force, having to apprehend a duo of animals was a first for Roberts.
In total, the dispatcher received 16 calls to 911 from the attention-seeking pooches. And while this is not how Roberts usually spends her days, she was glad the "emergency" turned out to be an accident.
"It is kind of unheard of for them to be up to those kinds of shenanigans," Roberts said. "It's mind-blowing, really." (Click to Source)
Recovery Room 7 is a community of people with similar backgrounds, where people from all walks of drug & alcohol recovery can meet together, share, socialize, interact, join in fun activities, share meals, pray and learn. It's a place of joy and awakening to their true purpose in life. Jesus Christ is always present and ready to receive everyone in Recovery Room 7. We will be located in beautiful Northwest Montana. If you would like to donate to get Recovery Room 7 up and running, please go to our PayPal Donation Link here.
Get online and get completely recovered! We are a Biblical Online Recovery Program that is life changing and empowering. We are Teen Challenge Certified Teachers and have integrated the world famous Teen Challenge PSNC curriculum for the most healing fusion of elements for your recovery. VRM is breaking the chains of addiction for a lifetime! Check us out!
24/7, 365 access to a board certified medical doctor, by phone or video. One low monthly cost of $12.95 for an individual plan or $19.95 for a family plan. No extras! No added consult fees! All inclusive! Visits are anytime, day or night and holidays. Cancel anytime. No one should ever be without this plan and everyone can afford it. This special pricing is for my readers here.