In Sweden, Latvia, and Greece, wildfires are spreading amid a brutal heat wave.
It's so hot, even parts of the Arctic are on fire.
Temperatures this month reached 86 degrees Fahrenheit well inside the Arctic Circle in Sweden, where the worst fires the country has seen in decades are now burning. More than 50 fires have ignited across the country, forcing evacuations. Finland and Norway are also fighting flames.
"This is a serious situation and the risk for forest fires is extremely high in the whole country," Jakob Wernerman, operative head of the Swedish Civil Contingencies Agency, told the Associated Press.
So far, no deaths from wildfires have been reported in Scandinavia, but Greece hasn't been so fortunate. The country has declared a state of emergency as raging forest fires have killed at least 81 people and injured more than 190.
"There are no words to describe the feelings of all of us, these times," said Greek Prime Minister Alexis Tsipras during a televised address Tuesday. "The country is going through a tragedy."
The government suspects arsonists may be behind the fires. But there's also been intense heat across Europe this summer, and climate scientists say we can expect more of this extreme weather with global warming.
View image on Twitter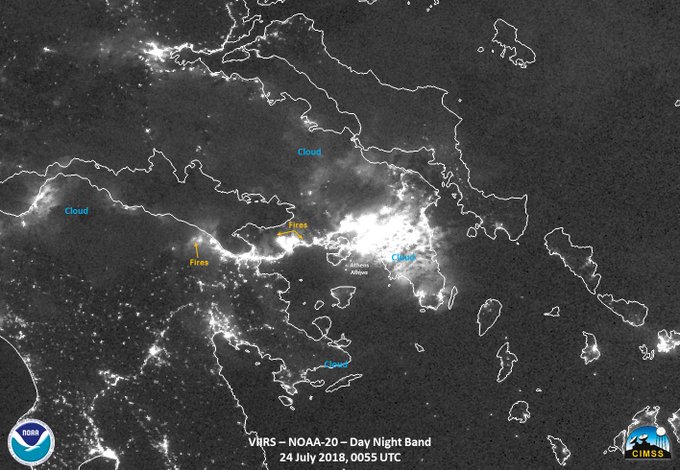 NOAA Satellites

✔@NOAASatellites

#NOAA20 satellite captured the devastating fires around #Athens #Greece last night which have already caused significant loss of life and severe damage to the area. Winds over 50 mph contributed to the rapid spread of the deadly fires.

294

247 people are talking about this
Twitter Ads info and privacy
High temperatures forced the Acropolis to close for several hours this week. The Greek government can close public attractions when temperatures reach 96.8°F, according to the Associated Press.
Greece's intense heat has helped dry out shrubs and trees, making them more likely to ignite.
The heat and drought pattern is similar to that playing out much further north in Latvia and Sweden. Parts of Italy are also on fire. Earlier this year, enormous fires scorched Siberia.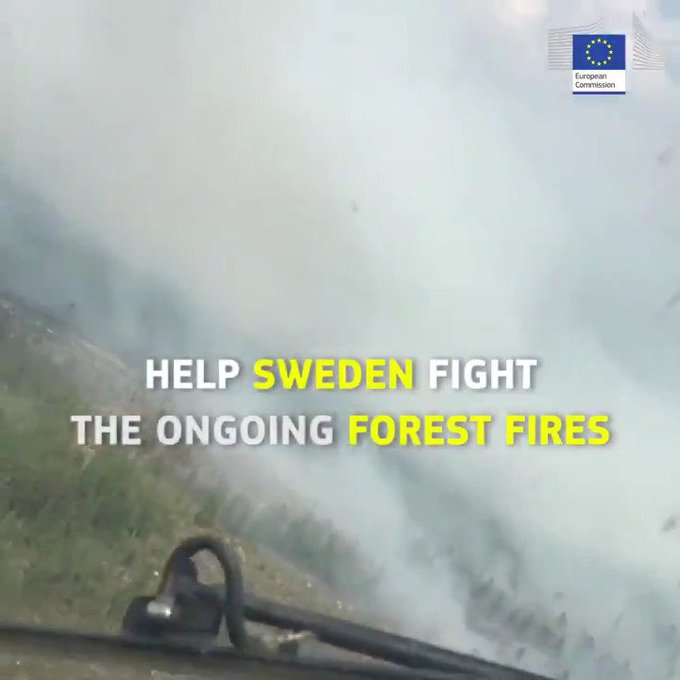 European Commission 

✔@EU_Commission

Sweden is facing forest fires.
We have helped mobilise two firefighting planes from Italy and two from France via #EUCivPro
This is solidarity in a Europe that protects. #rescEU #EUProtects
Footage by @emergenzavvf

1,371

749 people are talking about this
Twitter Ads info and privacy
Across Europe, fire risks remain high in the coming weeks, according to the European Forest Fire Information System:
While warm temperatures and dry conditions crop up sporadically throughout Europe during the summer, it's highly unusual that so many places are experiencing such hot, dry conditions for so long at the same time:
The big difference between the heatwaves of 1976 and 2018.
June 1976: the UK was one of the warmest places relative to normal across the globe, with most areas cooler than average.
June 2018: the UK was just another warm blob in a mostly warmer than normal world.#GlobalHeatwave.

13.3K

13.1K people are talking about this
Twitter Ads info and privacy
A corollary is that summers also spark wildfires in Europe on a regular basis, but rarely in so many places at the same time.
As for the rest of the world, heat this summer has already proved deadly in countries including Japan, Pakistan, and Canada.
Despite thousands of miles and an ocean in-between, many of the same trends behind the ongoing wildfires in Colorado, Oregon, and California are at play in Europe. As in the United States, Europeans are also building in increasingly fire-prone regions. Humans are also igniting most of these conflagrations.
As the climate changes, the fire season is getting longer, now stretching from June through October in Europe. We saw this play out late last year as Hurricane Ophelia sent stiff winds through Portugal and Spain, driving wildfires that killed more than 100 people. The European Environment Agency reported that "an expansion of the fire-prone area and longer fire seasons are projected across Europe."
Donald Tusk

✔@eucopresident

Very saddened by the tragic forest fires in Greece. Europe will stand by our Greek friends in these difficult times. Help is on its way from several EU countries.

2,113

633 people are talking about this
Twitter Ads info and privacy
Several European countries are now chipping in to help put out the fires. Sweden is getting assistance from France, Germany, Lithuania, Norway, Portugal, and Italy, who are contributing fire trucks, firefighters, soldiers, and water-bombing aircraft. The European Union is also mobilizing support staff and equipment to fight fires in Greece under the EU Civil Protection Mechanism.  (Click to Source)
CLICK HERE for the finest faith based personalized and compassionate addiction recovery program – right from the comfort of your home.