By Renee Duff, AccuWeather meteorologist
July 28, 2018, 1:49:20 PM EDT
The deadly Carr Fire burning in Northern California continues to threaten thousands of homes in Redding, California, after nearly doubling in size on Friday night.
The raging inferno has killed two people since igniting on Monday, July 23, after the mechanical failure of a vehicle, according to Cal Fire.
On Thursday, a bulldozer operator was killed while working to clear vegetation in the path of the blaze, according to a statement from Cal Fire. Three firefighters have suffered burns.
Officials announced early Friday that a Redding city firefighter had died battling the blaze.
Redding Firefighters

@reddingff_1934

With heavy hearts we announce the passing of Fire Inspector Jeremy Stoke. Jeremy died while battling the Carr Fire. We ask for your thoughts and prayers for his family and the RFD as we process this tragic loss. More information will be released as it becomes available.

1,910

1,108 people are talking about this
Twitter Ads info and privacy
The wildfire, which has consumed over 80,000 acres with minimal containment, jumped the Sacramento River on Thursday night and headed toward the city of Redding, which is home to nearly 92,000 people.
The erratic nature of the blaze has made the fire difficult to contain.
"[The Carr Fire] was moving all over the place," Mike Mohler, deputy communications director for the California Department of Forestry and Fire Protection, told the Los Angeles Times.
AccuWeather meteorologist and volunteer firefighter Evan Duffey is concerned that the fire can continue to create its own weather and more hazards and strains for firefighters.
"Given the high temperatures in the region reaching well in the 100s and how dry it has been, the chances of extreme fire danger are high," Duffey said.
"Rapidly rising air caused by the extreme heat helps the fire to grow explosively as the fire will create its own wind, as well as fire vortices (firenadoes) and tree crowning (when the leaves get engulfed by flames), even on otherwise calm days."
No relief from the triple-digit heat is expected to come to Redding or the neighboring lower elevations this weekend or next week. In addition to the threat of more evacuations, residents will have to contend with smoke creating poor air quality.
It is best to limit time outdoors and avoid strenuous activities amid the smoky conditions. It is especially important that the elderly, children and those with respiratory issues follow these precautions.
On Friday, Gov. Jerry Brown requested a Presidential Emergency Declaration for Direct Federal Assistance. The request includes Department of Defense air assets and supplies and water for the evacuated residents of Shasta County.
Nearly 5,000 structures are threatened. At least 500 structures have been destroyed, while another 75 were damaged.
Around 37,000 people were under evacuation orders on Friday, according to the Associated Press (AP).
Thousands of Redding residents remain without power. Redding Electric Utilityannounced that power was shut off to most of north Redding at the request of fire authorities and to maintain system stability.
"Restoration time of the outage is unknown at this point, but please know that Redding Electric Utility is doing all it can to maintain system integrity while keeping the needs of the residents of Redding in mind," the utility said.
A structure burns as the Carr Fire races along Highway 299 near Redding, Calif., on Thursday, July 26, 2018. (AP Photo/Noah Berger)
Mile-long traffic jams were reported on area roadways as people were forced to evacuate quickly.
Many firefighters turned their attention from battling the blaze to helping people flee the raging inferno.
As a precautionary measure, Redding's Mercy Medical Center evacuated all of its neonatal intensive care unit patients on Thursday night. The hospital remains fully operational otherwise.
"Really we're in a life-saving mode right now in Redding," Jonathan Cox, battalion chief with Cal Fire, said via the AP. "We're not fighting a fire. We're trying to move people out of the path of it because it is now deadly and it is now moving at speeds and in ways we have not seen before in this area."
Over 3,400 total personnel are working to contain the blaze.
Dozens of boats on Whiskeytown Lake, located about 10 miles west of Redding, were burned.
View image on Twitter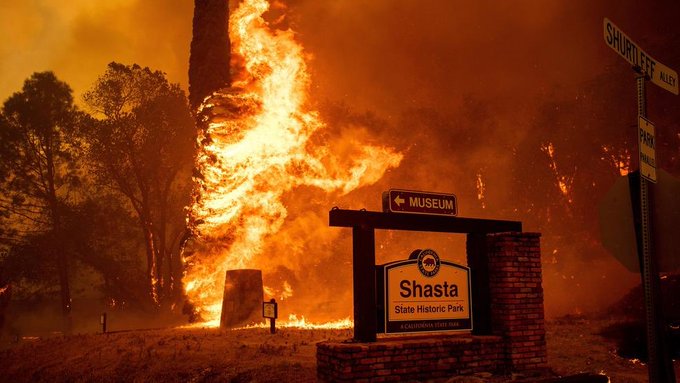 Melissa Camille

@MelissaCamille

This is devastating. #CarrFire #Shasta

Photo:Noah Berger

718

452 people are talking about this
Twitter Ads info and privacy
An historic schoolhouse burns as the Carr Fire tears through Shasta, Calif., Thursday, July 26, 2018. (AP Photo/Noah Berger)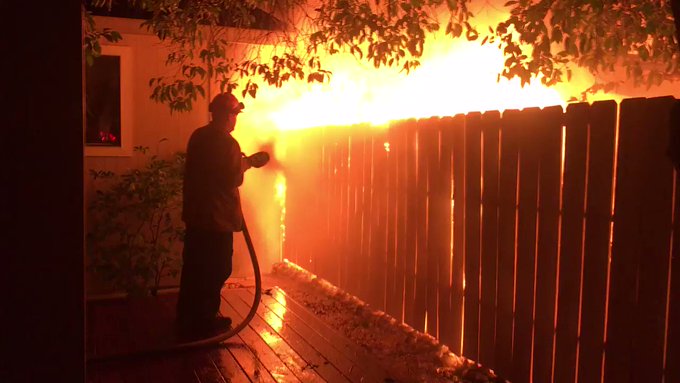 Daniel Myungkyu Kim

@so_dakim

A firefighter attempts to stop the growth of a structural fire on Ridge Dr. in Redding, Calif. #carrfire

498

316 people are talking about this
Twitter Ads info and privacy
Cars scorched by the Carr Fire rest at a residence in Redding, Calif., on Friday, July 27, 2018. (AP Photo/Noah Berger)
View image on Twitter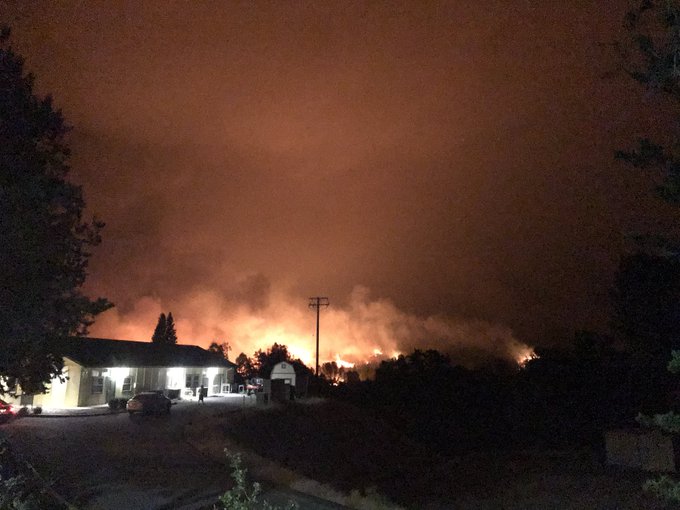 Amber Sandhu

✔@AmberSandhu_RS

This is what it looks like from Shasta high school

15

15 people are talking about this
Twitter Ads info and privacy
View image on Twitter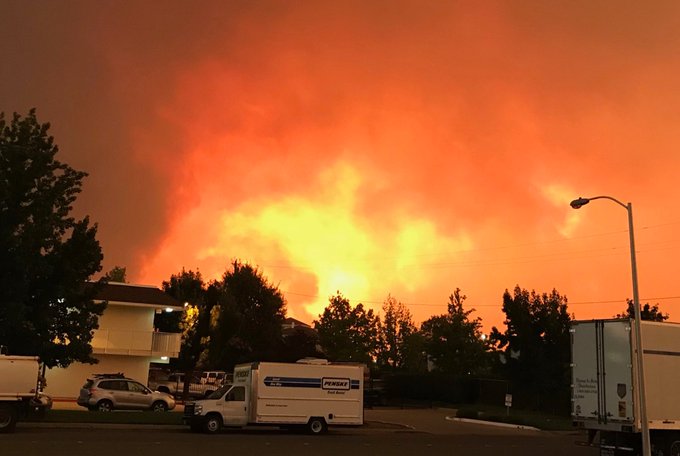 Damon Arthur

✔@damonarthur_RS

This photo was taken from Twin View Blvd. on the east side of I-5.

11

19 people are talking about this
Go to Oil From Above for all of your Hemp CBD Oil needs.