West Pacific Maria, a Category 4 Equivalent Typhoon, Poses a Danger to Okinawa, China Next Week
By the weather.com Digital Meteorologists
2 hours ago – July 7, 2018 – weather.com
A typhoon has gotten the name 'Maria' in the western Pacific.
Storm names can be retired in one basin and not others.
The name 'Maria' was only retired in the Atlantic basin.
This version of Maria poses a danger to Okinawa, Japan and China next week.
Typhoon Maria is crossing the Philippine Sea northwest of Guam, and, while expected to weaken somewhat beforehand, poses a danger of a strong typhoon strike in Japan's far southwesternmost islands, including Okinawa, eastern China, and possibly Taiwan next week.
Maria is now a Category 4 equivalent system, called a typhoon locally, located over 300 miles northwest of Guam.
According to the U.S. Joint Typhoon Warning Center, Maria rapidly intensified from a 70 mph tropical storm to a Category 5 equivalent super typhoon with 160 mph winds in the 24-hour period ending at 8 p.m. EDT Thursday.
The system has since stopped intensifying due to an eyewall replacement cycle, but could regain some strength temporarily this weekend before weakening again.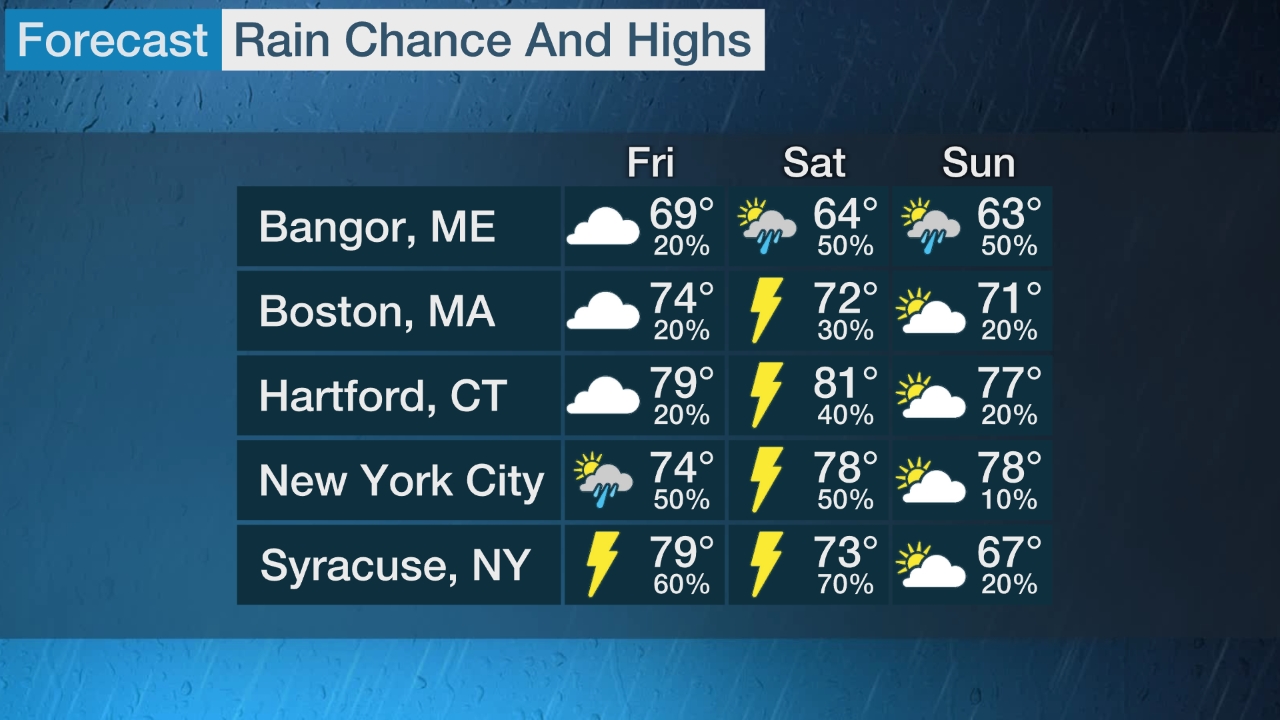 While there are no direct measurements of tropical cyclone wind speeds in the western Pacific, this is one of the fastest tropical storm to Category 5 intensification rates on record.
Super Typhoon Forrest strengthened by roughly 100 mph in 24 hours in September 1983 not too far from where Typhoon Maria did, according to NOAA's Hurricane Research Division. Hurricane Wilma deepened by 90 knots – roughly 105 mph – in 24 hours over the Caribbean Sea in 2005. More recently, Hurricane Patricia in the eastern Pacific intensified by 105 knots – 120 mph – over 24 hours in late October 2015 off Mexico's Pacific coast.
Last year, Hurricane Maria struck Puerto Rico, so you may wonder why you are seeing the name again. We'll answer that question after first laying out the forecast.
West Pacific Typhoon Maria's Forecast
Typhoon Maria is in an environment of very warm ocean water – 84 to 86-degree Fahrenheit sea-surface temperatures – low wind shear, and excellent outflowing winds aloft.
For now, Maria is replacing its eyewall in a process called an eyewall replacement cycle. During this process, Maria's intensity may fluctuate a bit a new outer eyewall contracts inward, choking off the old inner eyewall.
According to the U.S. Joint Typhoon Warning Center, Typhoon Maria is expected to be at least a Category 4 equivalent system for the next several days.
Typhoon Maria will be steered northwest, then will curl west-northwest by a building dome of high pressure aloft to its north.
By early next week, Maria is expected to begin encountering some increased wind shear and somewhat lower ocean heat content, which should induce some weakening.
However, given its current intensity and the building upper-level ridge, Typhoon Maria still may be formidably strong as it tracks toward Japan's southwesternmost islands, the Ryukyu Islands, including Kadena Air Force Base, Okinawa, around Tuesday.
After that, the majority of our forecast guidance suggests Maria could then slam into eastern China around the middle of next week.
There is also some potential Maria could track farther south, bringing at least parts of Taiwan into play around the middle of next week, as well.
It's far too soon to determine the exact track and impacts of Typhoon Maria. Interests in Japan, eastern China, the Korean Peninsula, and Taiwan should monitor closely the progress of Typhoon Maria.
Why Did the Name 'Maria' Reappear? 
The Hurricane Maria that caused catastrophic damage in Puerto Rico had its name retired earlier this year due to the amount and severity of damage and fatalities on the U.S. island territory.
But that name was only retired in one part of the world – the Atlantic Ocean. There are 12 other basins in the world that can have the same names.
Even 2017's catastrophic Hurricane Maria did not end up causing a global retirement for the name.
Usually, names vary quite a bit in different parts of the world due to language and preference differences, but the western Pacific is usually a hodgepodge of names. This is because of how names are chosen in that basin.
A total of 14 countries select names in that basin, including the United States, Japan and China, and put them into a rotating 140-name list.
Maria, a name submitted by the U.S., was one of the first names used on that list after being submitted in 2000. This was the year the Japan Meteorological Agency took over naming from the Joint Typhoon Warning Center.
Since then, the name Maria appeared on the lists in the Atlantic and west Pacific numerous times. The name has been used six times worldwide including two major hurricanes. It has appeared as a typhoon before: once in 2006.
In the Atlantic, the name was on the list as early as 1981 after lists went from 4- to 6-year rotations. It went unused for several years. Then the name was used three times, each time as a hurricane-strength system, in 2005, 2011, and of course in 2017. It will never be used again in the Atlantic.  (Click to Source)
CLICK HERE for the finest faith based personalized and compassionate addiction recovery program – right from the comfort of your home.