Scroll rolled into sealed taxidermist's jar remained in pristine condition between tree roots at northern kibbutz; last month, winds knocked tree down
A copy of Israel's Declaration of Independence dating back to the year that the State of Israel was born was discovered Monday during efforts to remove an old tree damaged during surprise storms two weeks ago.
Perfectly preserved in a sealed taxidermy jar, normally used for keeping creatures that have been stuffed, the scroll was originally placed between the roots of a cypress tree on Kibbutz Degania Alef in the Jordan Valley, east of the Sea of Galilee.
The tree fell during unseasonable storms two weeks ago.
Two kibbutz members were spraying clumps of dirt off its roots before removing the tree when they noticed something round and un-tree-like poking out.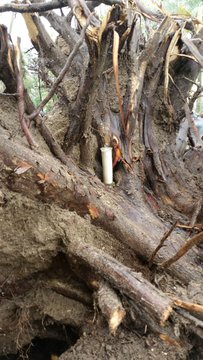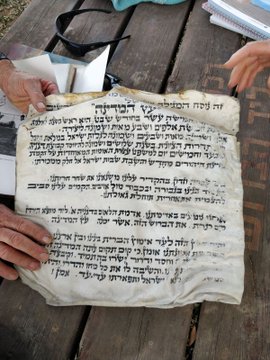 נמצאה בדגניה א' מגילת המדינה, שהיתה טמונה שם מאז 1948 בתוך מבחנה אטומה. המגילה נשמרה במצב מצויין בזכות העובדה שהיתה סגורה בתוך אחת הצנצנות שנהגו לשמר בהם בעבר פוחלצים במוזיאון בית גורדון @10elilevi
(צילום: יעל עבאדי)

23

See חדשות עשר's other Tweets
Twitter Ads info and privacy
The kibbutz will keep the new find enclosed in its special jar, as it already has a copy of the declaration in its archives.
Degania Alef was established in 1909 during Ottoman times and was home to several icons of early Zionism, among them poet Rachel Bluwstein (known simply as Rachel the Poet), soldier-politician Moshe Dayan, and Zionist leaders A.D. Gordon and Joseph Trumpeldor.
בט"ו בשבט שנת תש"ח, נטעו בדגניה ברוש מול הכנרת, וקראו לו "ברוש המדינה" מתוך שאיפה שיסמל את הקמת המדינה המיוחלת. כל הטקסים החשובים של דגניה התקיימו בבברוש המדינה. 70 שנה עמד במקומו. בסופה בשבוע שעבר, הברוש הענק הזה קרס ונפל. > pic.twitter.com/z0DExdNWeO
האגדה בדגניה היתה שכאשר נטעו אותו בתש"ח, טמנו החברים בין שורשיו מגילה. אתמול, כשהחלו לפנות את הברוש. התגלתה המגילה שנשמרה בשלומתה בתוך גליל זכוכית באדמה 70 שנה. וזה מה שכתוב בה: pic.twitter.com/EK0mPdg1uE

124

28 people are talking about this

CLICK HERE for the finest faith based personalized and compassionate addiction recovery program – right from the comfort of your home.

CLICK HERE to stock up on the finest quality reusable bags and kitchen items at the most affordable prices. Your purchases help sponsor someone in recovery at Victory Retreat Montana Online.