US Ambassador to the United Nations Nikki Haley blasted Russia and Syria Friday and praised the way President Trump is handling the aftermath of a chemical attack on Syrian civilians.
Haley said the US has enough proof to act in response to the attack, and President Donald Trump is looking at all his options.
"We definitely have enough proof, but now we just have to be thoughtful in our action," Haley said. "The national security team is trying to give him as many options as we can, and we'll be thoughtful about it and see what happens."
Haley did not mince words about Russia during a heated emergency United Nations Security Council meeting which kicked off Monday.
"The Russian regime, whose hands are also covered in the blood of Syrian children, cannot be shamed by pictures of its victims. we've tried that before," Haley said. "Russia could stop this senseless slaughter, if it wanted, but it stands with the Assad regime and supports it without hesitation."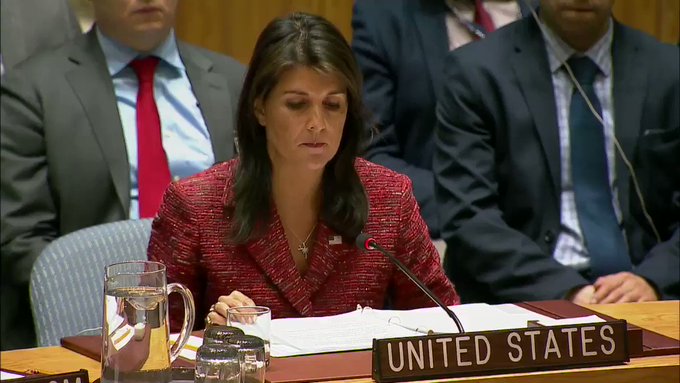 RT @USUN: "History will record that Russia chose protecting a monster over the lives of the Syrian people."

5,369

2,621 people are talking about this
Twitter Ads info and privacy
Haley suggested that Russia and Syria were uncivilized nations, and promised that the US would respond to the attacks if the UNSC did not take action.
She warned that "Russia's obstructionism will not continue to hold us hostage when we are confronted with an attack like this one," and that "either way, the United States will respond."
Haley has a history of using aggressive rhetoric with her Russian and Syrian counterparts when it comes to the seven-year-long civil war in Syria.
Russian UN Ambassador Vassily Nebenzia responded that no one gave the US or the West "the authority to act as gendarmes, policemen of the world," and demanded that they "return to the legal fold."
While testifying before the House Armed Services Committee, Defense Secretary James Mattis said the US is still looking for evidence of a chemical attack and is seeking to get inspectors on the ground to investigate.
"I believe there was a chemical attack, and we're looking for the actual evidence," Mattis said. (Click to Source)
CLICK HERE or the finest faith based personalized and compassionate addiction recovery program – right from the comfort of your home.
CLICK HERE for Healthy Reishi Mushroom Infused Coffee and an unbeatable coffee club. Super affordable!